Some Peek in the Stacks blog posts are authored by CSUN students who work in Special Collections and Archives. This week's post was written by Joey Piellucci, a student assistant and this year's recipient of the Ronald C. and Elizabeth-ann Purcell International Guitar Research Archives Fellowship. Joey is a senior majoring in Guitar Performance.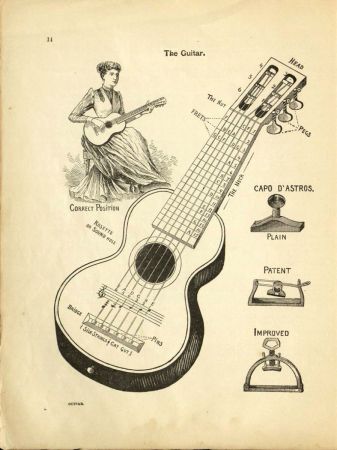 During the 18th and early 19th centuries, the guitar was not considered a serious concert instrument in America. Classical music in general was not as popular as the many folk forms that were en vogue, further contributing to the scarcity of the classical guitar. In order to gain insight into the evolution of American style classical guitar, we can examine some published method books, many of which are contained in the Vahdah Olcott-Bickford Collection. By reviewing method books, we can better understand how American folk music and culture influenced guitar pedagogy, and learn about how and why American classical guitarists and their books are sometimes overlooked or forgotten.
Some of the earliest American methods were written by Justin Holland, an African-American guitarist whose lifespan overlapped those of the most famous European guitarists, such as Sor, Giuliani, and Carcassi. In the preface of Holland's Comprehensive Method for the Guitar (1868), the author notes, "The system of the Great Masters has been rigidly followed and well settled principles strictly adhered to...". Holland clearly used many ideas and exercises from the Carcassi method, though he presents his own concepts, pieces, and arrangements, as well as those from the other great European composers. Holland's Modern Method for the Guitar (1876), is a streamlined version of his first work. He reiterates that he was not trying to create something new, and explains that he omitted the "common-place and trivial compositions of the day," giving us insight into his thoughts on the state of guitar composition in the United States.
In the 1890's there were a few methods written by Americans who remain relatively unknown to the classical guitar community. These include The Conservatory Method for the Guitar by I. G. Withers, Guitar Method by Wendell P. Dabney, Elite Guitar Instructor by Arling Shaeffer, and the Up to Date Method for the Guitar by M. B. Eaton. All of these methods are similar in that they rely on Carcassi's method, but contain many more arrangements as well as new pieces actually composed by the authors. Each emphasizes the learning of chords, which is almost certainly because of their prominent use in folk music. Shaeffer's method includes a trio for voice, guitar and mandolin, and Winner's includes over a dozen arrangements for voice and guitar. Most of the methods include duets for two guitars, and Winner's even includes duets for guitar and violin.
It wasn't until the early 1920s that new American guitar methods such as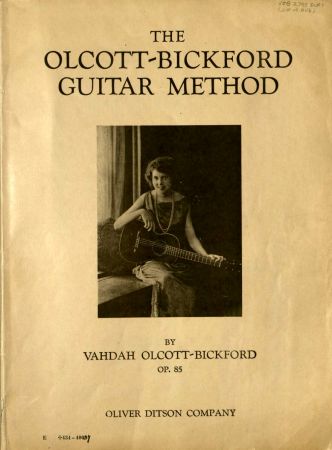 Foden's Grand Method for Guitar in two volumes, by William Foden, and The Olcott-Bickford Guitar Method, by Vahdah Olcott-Bickford, began to gain in popularity. Foden was one of the premiere guitar performers of the country, also playing and teaching stringed instruments such as the mandolin and banjo. He also composed and published over 50 solo works and arranged many more. In his book, he follows a similar course to Carcassi like many before him, and also writes "...only material that is agreeable and of value has been considered…" Although Foden's techniques for playing the instrument demonstrates a progression from his predecessors, the material he includes in his method is nothing new.  
Olcott-Bickford's method is a different story. As she notes, "...it has been a long matter of regret among progressive teachers of the guitar that there is no method before the public which is a truly thorough, musicianly method, other than the various "editions" of the Carcassi method…or some few other methods of the masters…and one or two other books based on these methods, with scarcely any modern, original material." Olcott-Bickford addresses stylistic changes in guitar playing since Carcassi's day, and attempts to update her method by including material in the modern style, while still respecting the older material and putting it in a different perspective. This method works to reexamine the needs of students and thus creating a work that appears to be relevant even 100 years later.
Even though the old American guitar method books may be overshadowed by their European counterparts, the interesting solo pieces, duos/trios, and arrangements contained found in these method books let us peer into the musical culture of their time. We encourage musicians, and guitar players, and the curious to come look at them in Special Collections & Archives.