Some Peek in the Stacks blog posts are authored by CSUN students who work in Special Collections and Archives. This week's post was written by Pedro Bautista, a student assistant in the International Guitar Research Archives (IGRA). Pedro is an undergraduate student majoring in Guitar Performance. 
Many U.S. History books focus on the history concerning Anglo-Americans but provide a minimal amount of information on the history of Mexican Americans and other minorities. However, in recent years there have been several Mexican-American figures that have given power and substance to the Chinana/o movement.
One of these exemplars is our very own Rodolfo F. Acuña, the founding chair of the Chicana/o Studies department at California State University, Northridge. This monumental accomplishment paved the way for the establishment of more Chicana/o departments in other universities across the nation. Special Collections and Archives is lucky enough to house a large collection of research material that documents his life and his work in the Rodolfo F. Acuña Collection, which includes many of his most important essays, articles and books, both published and unpublished.
An interesting book found in the Acuña collection is The Reinterpretation of American History and Culture. In this book, there is an essay titled "Freedom in a Cage: The Subjugation of the Chicano in the United States". In this essay, Acuña encapsulates the historical events leading up to the Chicana/o movement. For example, he succinctly describes the divide and conquer techniques that the Spaniards utilized during their invasion of Mexico and the forceful introduction of their language, religion, and culture. It also touches on the imperialist tactics employed by the United States to seize the north western region of Mexico, amongst many other topics.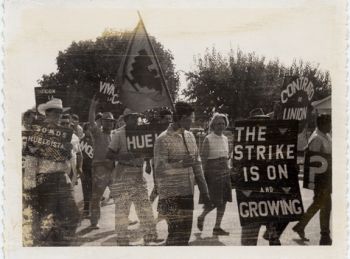 Another important Mexican American figure that many might be familiar with is Cesar Chavez. Chavez was a civil rights activist and founder of the National Farm Workers Association (NFWA). The Julian Nava Papers contains articles that document Chavez's endeavors. One of his many achievements was recounted in an article titled, "Cesar Chavez – The Shy Mobilizer of American Farm Workers". This article reported on the labor strikes against San Joaquin and Imperial Valley growers. During the strike, Chavez led a historic 25 day and 250 mile march to Sacramento.
However, Chavez did not single-handedly organize the farm workers; he had the help of the co-founder and vice president of the NFWA, Dolores Huerta. She was a devoted activist, motivator and leader. Her typical work day as an activist was eighteen hours long! Huerta was very poor, and her salary consisted of only 5 dollars per week. In fact, all of her clothes and food were donated and she stayed wherever her work took her. Despite her hardships, she was indispensable to the movement, fought for the rights of farm workers, and also brought attention to the treatment and rights of women in the workplace.
We owe a great deal to these inspirational and devoted figures who have altered the course of U.S. history, valiantly fought for the rights of Mexican Americans, and resisted oppression during a time when anti-Mexican sentiment ran high. To learn more about Rodolfo Acuña, Cesar Chavez and Dolores Huerta and their experiences, visit us at our new location on the second floor of the library and check out the Rodolfo F. Acuña Collection and the Julian Nava Papers. To see more pictures of Cesar Chavez when he visited California State University Northridge, check out the Library Digital Collections.