Some Peek in the Stacks blog posts are authored by CSUN students who work in Special Collections and Archives in the Oviatt Library. This week's post was written by  student assistant, Svetlana Danielyan, a junior majoring in Psychology with a minor in Creative Writing.
John Milton was a seventeenth century English poet whose works have greatly influenced the literary world. Milton wrote poetry and prose between 1632 and 1674, and is most famous for his epic poetry. Special Collections and Archives holds a variety of Milton's major works, including Paradise Lost, Paradise Regained, L'Allegro, and Il Penseroso. 
Paradise Lost is one of the most recognized works in English literature. The first version, published in 1667, contained ten books. A later edition was published in 1674, which consisted of twelve books.Paradise Lost consists of more than 10,000 lines of verse. It tells the story of Adam and Eve, including their creation, inability to resist the temptations of Satan, and subsequent fall from grace. Special Collections and Archives holds several editions of Paradise Lost, including one that was published in 1818. This edition was published by Benjamin Warner, a Quaker bookseller from Philadelphia. 
Another famous work by Milton is Paradise Regained, first published in 1671. Special Collections and Archives holds a 1790 edition titled, Paradise Regained: A Poem in Four parts, by John Milton from the Text of Dr. Newton. This edition was published by William Young, a bookseller, printer, and publisher who had a printing business at his Philadelphia home. Milton's Paradise Regained is a philosophical dialogue between Satan and the Son of God. The Son of God strives for noble consciousness, an internal quality. Conversely, Satan believes that it is acceptable to pursue external values, such as power, wealth, and recognition.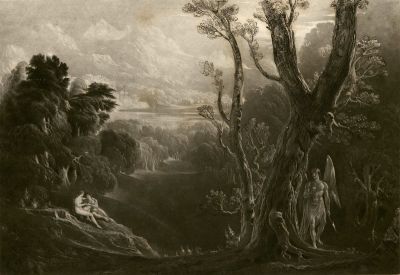 Milton's L'Allegro and Il Penseroso is another important work by Milton held in Special Collections and Archives. This edition was published 1855 in London by David Bogue. Myles Birket Foster, a famous illustrator, watercolor artist, and engraver in the nineteenth century, created the illustrations in this edition. His work depicts the interaction between day and night, one of Milton's primary themes in the work. Both L'Allegro and Il Penseroso consider the internal and external life of the poet through allegory.
Milton was in his twenties when he wrote L"Allegro and Il Penseroso, a young poet questioning what it meant to be an epic poet. As he matured, this early work had a major influence on his later writings. As he grew older, his poems became more complex and insightful. By the time he wrote Paradise Lost and Paradise Regained Milton was blind.  Although he had lost his sight, he utilized what he called "divinest Melancholy" to compose his most powerful works.