While we are working, attending class, and doing so many other things from home, our blog posts will focus on materials that have been digitized and can be accessed remotely. We'll continue to include links to our finding aids and other information about physical access, as well.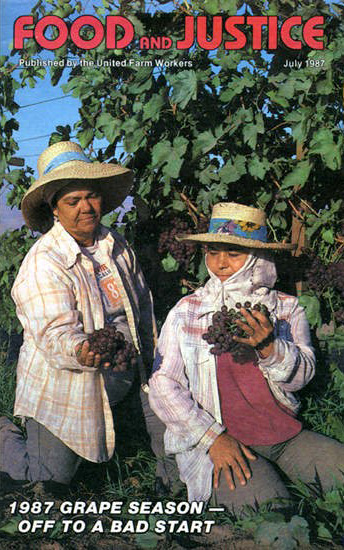 The Millie Moser Smith Papers contain materials related to the National Farm Workers Ministry and other organizations supporting farm workers. A portion of the collection was digitized as part of the Latina(o) Cultural Heritage Archives.
Mildred "Millie" Alice Ross Moser Smith was born in Iowa on August 11, 1919, and relocated to California after graduating from the University of Iowa with a teaching certificate and degree in English. During WWII, Millie Moser Smith built fighter planes for the Lockheed Aircraft Company and later worked as a substitute teacher while raising her family. Moser Smith dedicated much of her life advocating for social causes such as labor, immigration, civil rights, peace, and fair housing.
Many of the materials represented in the collection document Moser Smiths' involvement with the National Farm Worker Ministry (NFWM). Her involvement with NFWM developed through her leadership in the Church of Women United, a non-denominational Christian women's movement. The NFWM is a faith-based organization that supports farm workers organizing for equality, justice, and empowerment. In the 1920's, the Migrant Ministry was founded to support farm works by providing aid for housing, food, child care, and education. During the farm worker strikes in the 1960's, branches of the Migrant Ministry from across the country unified, resulting in the founding of The NFWM in 1971. Along with other faith-based organizations, the NFWM supported nationwide labor strikes including the Delano grape strike.
The Delano grape strike began September 8, 1965 and involved predominantly Filipino and Mexican farm workers demanding fair wages and better working conditions from grape growers in Delano, California. Organized by the Agricultural Workers Organizing Committee (AWOC), the National Farm Workers Association (NFWA)--led by Cesar Chavez and Dolores Huerta--joined the strike a week later. The AWOC and the NFWA would later merge in August of 1966, creating the United Farm Worker Committee, and eventually becoming the United Farm Workers of America in 1972. An international consumer boycott of non-union grapes played a large role in the success of the strike, with grape farmers signing labor contracts.
During the Delano grape strike, Cesar Chavez began a 25-day water-only fast for nonviolence. In 1988, he would again fast as a form of protest in Delano, California as part of the grape boycott protesting farmer workers' exposure to pesticides. His 'Fast for Life', lasted for 35 days and is documented throughout the Millie Moser Smith Papers. The documents displayed below can be accessed through the Library Digital Collections.