Some Peek in the Stacks blog posts are authored by CSUN students who work in Special Collections and Archives. This week's post was written by Jared Hevrdejs, a student assistant in the International Guitar Research Archives. Jared is an undergraduate student majoring in Guitar Performance.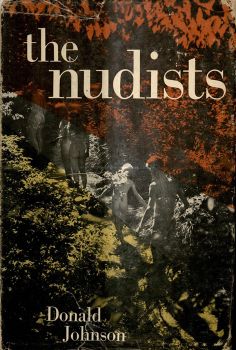 Naturism, or Nudism, is a social movement that advocates and practices social nudity in an effort to encourage self-respect and respect for others. Advocates believe that they came into the world in the nude and therefore they feel closer to nature and the earth when they are in the nude. They also believe that by removing clothing, which establishes social status, each participant becomes an equal person, thus returning to their most natural state.
Nudist colonies, also known as naturist communities, have often been viewed as strange or taboo by mainstream communities. Yet, nudism has continued to flourish in many parts of the world, as evidenced by publications such as Hellas nudist/naturist magazine. Since public nudity is generally frowned upon, naturist communities provide a safe space for participants to gather and follow their beliefs. An important component of naturism is equality between humans, so group activities are a large part of the culture. Common recreational activities within these communities include swimming, sunbathing, hiking, team sports such as volleyball, tennis, and badminton, and canuding, which is another name for nude canoeing. There are naturist communities throughout the world and, until recently, there was one fairly close to CSUN.
The Elysium Institute was a nudist colony established in Topanga Canyon in the late 1960's and was closed in 2001 after a recent move to Malibu. During the organization's most popular years, it had upwards of 1,000 members, but declined greatly after its original leased property was sold and the community was evicted. Throughout its lifespan, the institute produced a monthly newsletter in an effort to educate the public on the practice of naturism as well as provide a schedule of educational and informative seminars available to the members. As described in Journal of the Senses, "The main purpose of the Elysium experience is to open new alternatives to human freedom and fulfillment integrated with a sensitivity toward a respect of individual differences and an appreciation of our similarities."
Everybody's Diary is a project started by a member of a naturist community that documents individual members' stories and thoughts on the camp. Most of these stories discuss participant's apprehensions and misconceptions prior to visiting the camp, and their changed views after their visits. As one person notes, "My idea of a nudist camp was that it was a place where people went strictly for purposes of immorality and that they sought to evade the law.  When I was admitted, I spent a whole day watching for immorality. The people I talked with appeared to be anything but immoral….my vacation is over, and I'm going back to my job, and not only with a sun tan to show for it, but I am taking with me a knowledge with which I would not part for the world.  I have learned more genuine etiquette and better ethics here than most pedagogues are capable of understanding or teaching." More stories like this can be found in "Life in a Nudist Camp" by Sarge Blank in the Emanuel Haldeman-Julius Big Blue Books Collection.
Another item found in the Emanuel Haldeman-Julius Big Blue Books Collection is a piece called "Why Be a Nudist?" by D.O. Cauldwell. This book addresses some of the common issues the public has with nudists, such as immodesty, exhibitionism, cultism, and sexual promiscuity. The author does not deny that these exist within nudist colonies, but instead argues that these issues exist in clothed society as well and that the communities were not established to practice any of those behaviors. He goes on to discuss the intended purpose of the communities by pointing to its health benefits, spirituality, and promotion of equality between humans.
There are a wide variety of resources documenting nudist colonies and the practice of nudism in Special Collections and Archives, such as documents found in the Homosexual Information Center Subject Files Collection, the Emanuel Haldeman-Julius Big Blue Books and Larger Books Collection, and many books which are part of the Vern and Bonnie Bullough Collection on Sex and Gender.