Posted on December 13, 2016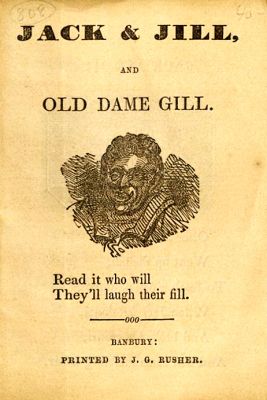 Nursery rhymes are verses, chants, or poems spoken or sung to small children to amuse or sooth them. Most were first written down in the 18th century when publications for children moved away from being purely educational, though many rhymes were probably not new at that time, having been passed down orally from parents to children. They come from numerous sources, including proverbs, drinking songs, riddles, and historical events or people, and few were probably originally intended for children. Academic study of the nursery rhyme originates in the early 20th century, and the true origins of most are unknown.
Some of the oldest printed nursery rhymes in Special Collections are in a collection of chapbooks. Chapbooks were an early type of popular literature that was cheaply produced. Many chapbooks were illustrated with woodcuts, as the three featured here are. They probably date from the late 18th or early 19th century, before the words in many of the rhymes were cleaned up or "improved" for young audiences. In Jack & Jill, and Old Dame Gill, "Jack fell down / and broke his crown," rather than "bumping" it as he does in many 20th century versions of the rhyme. In The Life of Jack Spratt, he and his wife Joan are shown amorously embracing in a way some might not find appropriate for children today.
Differences between older and modern versions of the rhymes are noticeable in volumes printed in the late 19th century, as well. In the version of "Little Miss Muffet" printed in Mother Goose in 1881, the rhyme's most famous line, "Along came a spider," is given instead as "There came a great spider." In "Little Boo Peep," her sheep are to "bring" rather than "wag" their tales behind them. Further, the illustration of Humpty Dumpty portrays the titular character as a boy rather than an anthropomorphic egg. In some instances, nursery rhymes are associated with simple songs or melodies for children to sing. Many appear in 1912's Little Songs of Long Ago accompanied by music, including "Old King Cole," "Simple Simon," and "London Bridge is Broken Down," now more commonly known as "London Bridge is Falling Down." In addition to London Bridge's words bearing little resemblance to more recent versions, the melody is also different.