While we are working, attending class, and doing so many other things from home, our blog posts will focus on materials that have been digitized and can be accessed remotely. We'll continue to include links to our finding aids and other information about physical access, as well.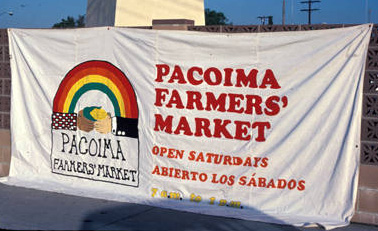 In 1978, Los Angeles Councilmember Bob Ronka founded Pacoima Revitalization, Inc. (PRI), funded by the Department of Housing and Urban Development through the Community Development Department of the City of Los Angeles. PRI's Board of Directors was made up of community members appointed by Councilman Ronka.
The primary purpose of the organization was to revitalize the Pacoima, Arleta, and Lakeview Terrace areas through low or no cost housing rehabilitation loans, enhance commercial services and new employment opportunities, plant trees along main boulevards, sponsor anti-graffiti removal, foster industrial development, provide capital improvement monies, and inspire community pride.  
One of the projects that PRI developed was a month-long Clean-Up Campaign. This event promoted a trash pick-up event, and informed the public about ways to participate in cleaning up unsightly bulky trash and construction refuse. While many of the projects were planned and organized through PRI leadership, others were requested by the public. One public works request came from a resident who suggested the installation of street lights in specific areas of Pacoima. This project request was accepted and implemented through PRI funds.
With input from business leaders and the community, it was determined that the area was sadly lacking in grocery stores and other access to fresh produce. Funding was provided to renovate an existing but empty building owned by the Phil's Market chain, who worked with the Alpha Beta Company to reopen the store in the Lakeview Terrace area. Another benefit that PRI provided was access to a farmer's market, which not only provided the residents with greater access to fresh produce, but promoted social opportunities.
PRI also engaged the community in a series of beautification projects, including the planting of trees by students of the Mary Immaculate School and the painting of a mural on the administration building of the San Fernando Gardens housing development. Several schools and community organizations participated in mural projects, including some which portrayed important historical or religious figures.