While we are working, attending class, and doing so many other things from home, our blog posts will focus on materials that have been digitized and can be accessed remotely. We'll continue to include links to our finding aids and other information about physical access, as well.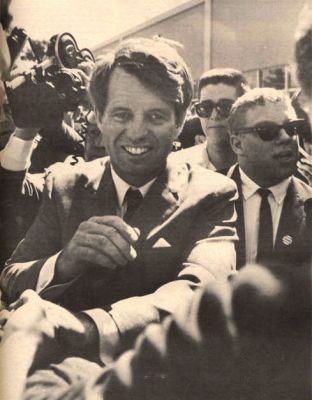 Several items in the Library's Digital Collections attest to the interest of CSUN students, faculty, and staff in the political landscape of Los Angeles, California, and the United States. Much of the material currently available in Digital Collections date from the 1960s, a period in American history marked by political and racial activism.
In 1960, John Kennedy and Richard Nixon ran for President of the United States. Nixon's running mate, Henry Cabot Lodge, Jr., a former Senator from Massachusetts and US ambassador to the United Nations, visited San Fernando Valley State College (now CSUN) in September. The Daily Sundial tells us that Lodge spoke before an estimated 3,500 people for approximately 30 minutes and remarked on education, civil rights, foreign policy, leadership, and religion. Lodge did not ultimately become vice president. In 1963, President John Kennedy appointed him US Ambassador to South Vietnam.
U.S. Vice President Hubert Humphrey spoke to the campus in September 1966 as anti-war sentiment was growing on college campuses across the nation after President Johnson commit to sending ground troops to Vietnam. Several protestors interrupted the vice president's speech about California's aerospace industry with taunts about the war in Vietnam. The Sundial reported that Humphrey stayed to speak with protestors following his speech.
Perhaps the largest political event ever held on campus was the California Political Forum – 1968. Sponsored by Associated Students, the bulk of the forum's activities occurred May 5-7. Program elements included speeches, lectures, panel discussions, and tabling opportunities. Participants were engaged in local, state, and national campaigns, from municipal judge to president of the United States. They also represented the two major political parties as well as several third parties, the Socialist Workers' Party, the Peace & Freedom Party, and the American Communist Party.
Several prominent politicians spoke to the campus throughout the election cycle in 1968, including presidential primary candidates Robert Kennedy in March and Eugene McCarthy in September. Kennedy was back in Los Angeles for the June primary. Following a victory speech after wins in California and South Dakota, he was shot several times as he walked through the kitchen at The Ambassador Hotel in Los Angeles. The assassin, Sirhan Sirhan, is still serving a life sentence, currently in San Diego County.
In the years since, our campus has drawn visitors from local to national politicians; from LA mayors to US presidents. Our first such visitor was California governor Goodwin Knight who attended the campus groundbreaking ceremony in 1956. Others have included LA mayors Tom Bradley and Richard Riordan, Senators Alan Cranston and Kamala Harris, California political boss Jesse Unruh, and both Clintons, Bill as a serving US President, and Hillary as a presidential candidate.