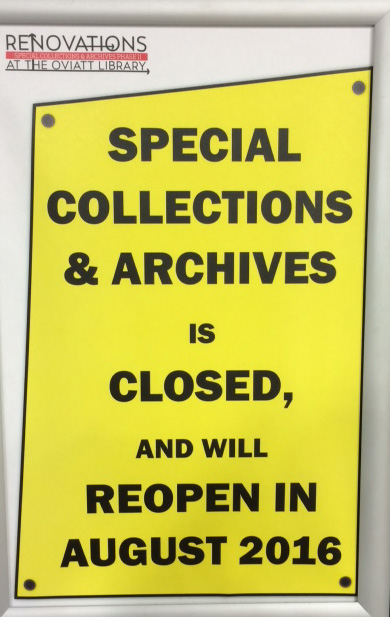 This summer is an exciting time in Special Collections and Archives. Last year, we began a two phase renovation project and much to our delight, Phase I has been completed! Special Collections and Archives now has a new, environmentally controlled and secure closed stacks area for our rare books, artifacts, and archival collections, as well as a new Reading Room that will be available for students, faculty and others who use our collections.
Following completion of the physical space, Special Collections and Archives staff and student assistants began to tackle a monumental challenge – relocating approximately 50,000 rare books and other types of archival materials from our former stacks area and storage facility to the new stacks area. In addition to moving books, supplies, furniture, and equipment, it was also necessary to relocate staff and student assistants to temporary office and work spaces.
As we continue to shift materials into the new closed stacks, phase two of the Special Collections and Archives renovation is gearing up to begin. Phase two will result in a new workroom for staff and student assistants, as well as a dedicated learning space. The west wing of the library, including the gallery and Ghostand Reading Room is expected to reopen in August.