Some Peek in the Stacks blog posts are authored by students who work in Special Collections and Archives. This week's post was written by our Visual Resources graduate intern, Jonathan Naveh. Jonathan is a student at UCLA working on a Masters in Library & Information Science with a specialization in Media Archival Studies.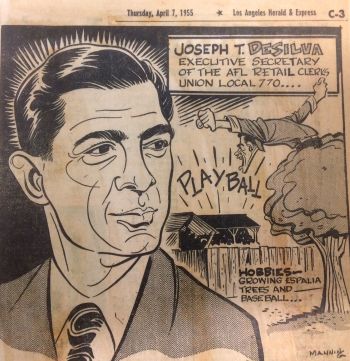 The Retail Clerks Union Local 770 Scrapbook Collection explores the organization's activities beginning in 1942 through 1959. Local 770 worked to secure rights, negotiate wages, resolve contract disagreements for California-based retail employees and actively supported women's rights, fair pay for minorities, labor legislation, and general employment concerns of the surrounding community. The collection documents an intense period in Southern California labor history, and consists of scrapbooks containing national and local newspaper clippings, correspondences, pamphlets, magazines, photographs, campaign flyers, conference ephemera, and other materials. General activity covered by the scrapbooks includes union strikes, labor disputes, and worker-oriented political advocacy.
Initially conceived as the Retail Clerks National Protective Union in the late 1890s, the union eventually rebranded itself as the Retail Clerks International Association, and later, the Retail Clerks International Union (RCIU). The work of Joseph T. DeSilva, one of the founding members of RCIU, is highlighted throughout the collection in newspaper clippings, personal letters, photographs, and organizational memos. DeSilva helped form the RCIU and served as executive secretary for over 35 years. He had a deep understanding of the RCIU's political potential, and was instrumental in leveraging that power to meet the goals of local union members.  
Los Angeles and other Southern California unions and union activities are prominently featured throughout the scrapbooks. Scrapbooks include news reportage on local strikes, wage and salary negotiations, and the activities of particular union bodies, such as retail workers, garment workers, and food clerks. Coverage of events such as the Los Angeles General Food Store Clerks Strike in 1947, the 63rd District Assemblymen Election of 1947, the 9th Union Industries Show in L.A., the 23rd Convention of the Retail Clerks International Association, and the proclamation of Retail Clerks International Association Week in June 1959 are included.
The RCIU was affiliated with The American Federation of Labor and Congress of Industrial Organizations (AFL–CIO) for much of its organizational tenure. Because of this affiliation, it gained greater collective bargaining power and political clout. Today, the union remains active as the United Food and Commercial Workers (UFCW) following a series of mergers between The United Packinghouse Workers of America (UPWA) and The Amalgamated Meat Cutters and Butcher Workmen of North America (AMC & BW of NA) in 1979. In 2005, disagreements with the AFL–CIO resulted in the withdrawal of the UFCW and other large-scale unions from the Federation, however in 2013, the UFCW re-affiliated with the AFL–CIO. The UFCW now represents approximately 1.3 million workers throughout North America, across industries such as health care, retail food, meatpacking and processing, agriculture, and textile and manufacturing.