While we are working, attending class, and doing so many other things from home, our blog posts will focus on materials that have been digitized and can be accessed remotely. We'll continue to include links to our finding aids and other information about physical access, as well.

The Sepulveda Basin Wildlife Reserve was initially established in 1979 by the Army Corps of Engineers. The future site of the reserve, located west of the 405 Freeway and on both sides of Burbank Boulevard, provided clay and earth for the Van Norman reservoir in Granada Hills. The resulting borrow pits temporarily filled with rainwater in the winter, which attracted migratory and resident birds. Local environmental organizations, taking note of the birds and the birdwatchers who flocked to the site, worked with government officials, including the Army Corps of Engineers, to create a more permanent habitat for birds and other wildlife by replanting native vegetation.
Today it is a green space which provides breathing room to human residents of the San Fernando Valley, as well as creating homes for pelicans, peregrine falcons, ducks and swans, frogs, snakes, coyotes and raccoons. Along with hiking trails and wildlife viewing stations, the reserve features an amphitheater and a field dedicated for use by model airplane hobbyists.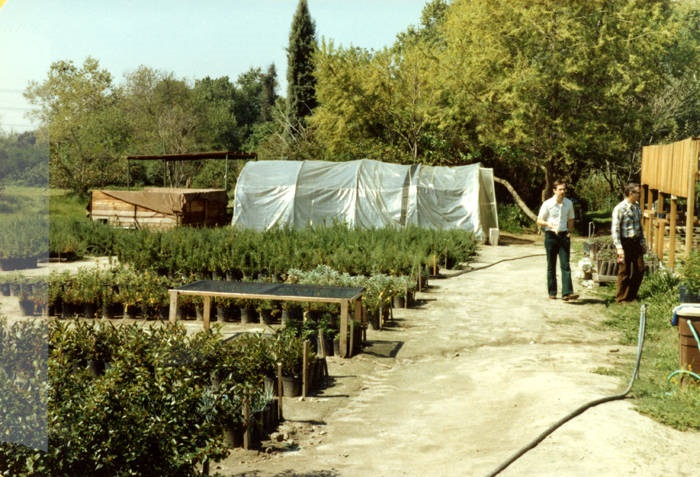 Volunteers working on the reserve documented its creation with photographs. The San Fernando Valley History Digital Library, of which these photographs are a part, was created to bring together significant historical photographs, illustrations, maps, manuscripts, documents and related graphic materials from a variety of collections located on the CSUN campus and across the San Fernando Valley. These photographs of the reserve's development, taken by Emilia Parra-Szijj and contributed by Steve Hartman, feature replanted native species and invasive weeds; greenhouses; and volunteers placing stakes and plants. There are also photographs of drains, access roads, and other infrastructure. The collection features a map of the reserve's many environments, and another showing its location in the southeastern San Fernando Valley. There are several panoramic shots of the reserve before revegetation and after, which also provide views of the surrounding area from 1979 to 1981.
These photos document the history of one of the larger green spaces in the San Fernando Valley. They also remind us of the places nearby which provide breathing room from the stressors of the urban environment, particularly during the COVID-19 quarantine, and the diverse species of wildlife with which we co-exist in the Valley.
Additional photographs of the Sepulveda Wildlife Reserve are available online as part of the San Fernando Valley History Digital Library.