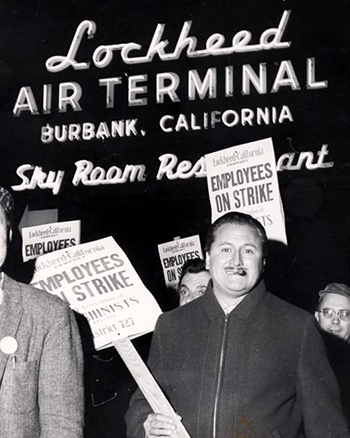 The Urban Archives, part of Special Collections and Archives, collects materials that document the history of Los Angeles, and includes the records of many labor unions, guilds, and affiliated labor organizations that have operated within Los Angeles since the early 20th century. Many of these collections include records documenting labor strikes, or work stoppages that occur when a critical mass of employees refuse to do work, especially if the strike actions occurred in Los Angeles.
Strikes are most frequently organized by unions when collective bargaining, the process through which employers and employees come to agreement about compensation and benefits, is unsuccessful. Some strikes are also organized against employers unions accuse of committing unfair labor practices, or to address working conditions more generally. Strikes can occur at a single workplace, across an entire industry, or in the case of a "general strike" across a geographic region.
The International Longshoremen's and Warehousemen's Union (ILWU), Local 13 Records, Part I includes documentation of the 1934 Waterfront Strike, in which Longshoremen working in ports across the west coast went on strike for 83 days over unsafe labor conditions and their right to be represented by a union. The collection includes meeting minutes in which union members accuse management of infiltrating union offices with "observers" months before the strike began, and testimony from an ILWU member about a person who attempted to work during the strike. Called a "scab," he was "dumped in the Bay" by striking longshoremen in San Francisco. Other ILWU collections, including the Baldo Loy International Longshoremen's and Warehouse Union (ILWU) Ephemera Collection, document many other strikes undertaken by ILWU over the years.
The Max Mont Collection includes records and documentation of the lettuce and grape strikes conducted by the United Farm Workers in California in the late 1960s. Mont served as Secretary of the Emergency Committee to Aid Farm Workers (ECAFW), an activist group that successfully lobbied for the discontinuance of the Bracero program. Mont was also Los Angeles area boycott coordinator for the boycott against non‑union California table grapes and lettuce.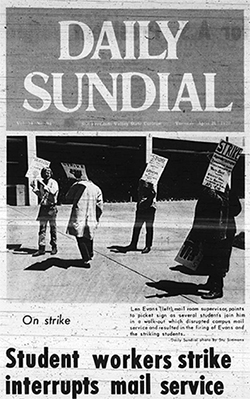 The Motion Picture Screen Cartoonists Guild, Local 839 Collection contains records of the Disney animators' strike of 1941. The Motion Picture Screen Cartoonists Guild began work to organize animators at Walt Disney Studios in 1940, but Walt Disney himself vehemently opposed the action. When animators persisted in organizing themselves, Walt responded by firing an employee because of his union activities. The following day his employees went on strike, and were ultimately successful in unionizing themselves. The Los Angeles Newspaper Guild (LANG) Collection includes documentation of a strike undertaken at the Los Angeles Herald-Examiner from 1967-1973 in which strikebreakers brought in by management ultimately joined the Guild and its strike lines rather than working, resulting in the Herald-Examiner going out of business.
The Paul J. Goldener United Automobile, Aerospace and Agricultural Implement Workers of America, Local 645 Collection includes photographs and other documentation of a strike conducted in the late 1960s in response to management's desire to lower wages. The Tomás Rodriguez Photograph Collection includes several photos from the Dura Steel Strike of 1954, undertaken when management refused to discuss or negotiate wages for employees at all. While strike picket lines are most commonly populated by employees, images from the Dura Steel Strike are notable in that they include many children and families picketing in solidarity with strikers.
CSUN has also been the site of several strikes since its founding as San Fernando Valley State College in 1958. While some strikes undertaken by students, staff, and faculty have been in response to political and social issues, others have focused on labor. As documented in the Campus Unrest and Related Campus Activities Collection and the Daily Sundial, student assistants who worked in CSUN's campus mail room went on strike in April 1970 after being threatened with what they felt were politically-motivated firings. They formed a San Fernando Valley State College student chapter of the American Federation of Teachers, and picketed on campus. Working with the American Federation of Teachers and the Industrial Workers of the World, striking student assistants invited student employees in all campus units to join their union, and invited all CSUN students and staff to join their picket lines.