Posted on October 18, 2016
Archeological discoveries have suggested that the art of tattooing may have been practiced as early as the Stone Age, and twenty-five years ago in the Otztal Alps located between Austria and Italy, physical evidence of tattooing was discovered on Otzi, the ice man. In addition to his shoes, clothing, and a quiver, sixty-one separate tattoos were discovered on the man who lived in about 3,300 BCE. In Otzi's time, a sharpened bone needle was likely used to slightly prick the skin, and probably colored with a carbon substance from a cooking fire.  
The British voyages of Captain James Cook between 1768 and 1779 brought sailors in contact with the Polynesian practice of body marking called tatau. Though Caption Cook met a violent death in Hawaii, his sailing crew brought the art of tatau back to England, and saw it flourish. The Polynesian art gradually became known as "tattoo" in English.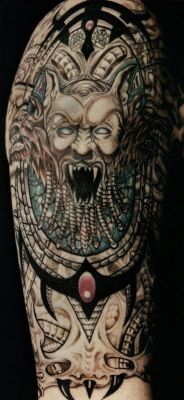 In the nineteenth century, tattooing gained popularity among the European aristocracy. While on tour in Jerusalem in 1862, the Prince of Wales had a cross tattooed on his arm. Twenty years later, his sons, the Duke of Clarence and the Duke of York visited Japan and both had dragons tattooed on their arms. Nicholas II of Russia acquired a dragon tattoo in 1891, and it is rumored that the German Emperor, Kaiser Wilhelm II, also had a tattoo. 
In the early- to mid-twentieth century, tattoos gradually became associated with criminals, sailors, and gang membership. The counter-culture movement of the 1960s saw tattoos emerge as symbols of social mistrust. Janis Joplin, for example, had several tattoos, as did many of her fans. These badges of the anti-establishment movement grew popular again, and have stayed so today. 
Up until the late nineteenth century, tattoo artists would use a hand-needle poke method with various inks. Samuel O'Reilly experimented with Thomas Edison's 1875 electric pen, and developed the electric tattoo machine that was patented in 1891. When he died in an accident in 1908, his apprentice, Charles Wagner, purchased the O'Reilly New York city tattoo parlor, and later developed an improved tattoo machine. 
A modern tattoo machine usually works with a variable speed spring-loaded reciprocating needle that can penetrate the skin up to 6000 times a minute. Tattoo inks usually consist of a pigment in a wide range of colors and a carrier. At times, artists do sometimes mix inks to find a special color or tone. 
A neighborhood tattoo shop will often have examples of tattoos on the shop walls and in notebooks that customers can flip through. These examples are referred to as "flash" by tattoo artists. Flash may be drawn by the resident artist or traded and sold among tattoo studios and artists. In addition to many flash examples, most tattoo artists can and will do custom work upon request. 
Special Collections and Archives holds several contemporary magazines such as Lesbian News, The Advocate, Tattoo Flash, and Playboy, which may contain information and images about the history and art of tattooing. Some of the major tattoo artists have published their own coffee table books such as Don Ed Hardy's Tattooing the Invisible Man: Bodies of Work. Other resources about the art of tattooing include 1000 Tattoos, American Tattoo: As Ancient as Time, as Modern as Tomorrow, and Customizing the Body: The Art and Culture of Tattooing.