Posted on October 13, 2020
While we are working, attending class, and doing so many other things from home, our blog posts will focus on materials that have been digitized and can be accessed remotely. We'll continue to include links to our finding aids and other information about physical access, as well.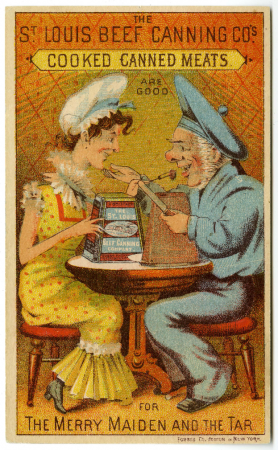 W. S. Gilbert and Arthur Sullivan produced fourteen enormously popular comic operas between 1871 and 1896, including H.M.S. Pinafore, the Pirates of Penzance, the Mikado, and more. These works are considered by many to be precursors of the modern musical, distinguished by comedic examination and critique of class, gender, and political systems of the time.
The David Trutt Gilbert and Sullivan Advertising Cards Collection contains trade cards that use characters from ten of these operas to advertise different products. While the purveyors of such varied products as canned meats, laundry detergent, shoes, silk thread, cigarettes, and more hoped an association with Gilbert and Sullivan's popular works would help sales, the cards provide a unique glimpse into late 19th and early 20th century American cultural values and interests.
Trade cards first became popular in the late 17th century in major European cities, and became extremely popular in America in the 19th century. The increase in domestic products and the desire to advertise them led to the widespread printing and distribution of trade cards. Technological improvements in printing presses and color lithography also worked to boost widespread distribution.
Historians have suggested that trade cards served to socialize women to their gendered roles and advanced the consumerist ethos that prevailed in the late 19th century. Some popular products included Higgins' German Laundry Soap, J. & P. Coats and Corticelli sewing supplies, Excelsior polishing and cleaning products, Players Cigarettes, and Magnolia Hams. Trade cards portraying women and girls were often intended to sell goods to women, specifically. Indeed, many of the products sold with imagery of Gilbert & Sullivan's many popular works were associated with traditionally female work in and around the home. This is an example of diversifying advertising practices, especially the ways manufacturers used popular culture to target specific types of potential buyers. 
For more information about this collection, see a past post about The David Trutt Gilbert and Sullivan Advertising Cards Digital Collection.