by by Keith Rice, Ph.D., Historian/Archivist, Tom & Ethel Bradley Center, December 03, 2019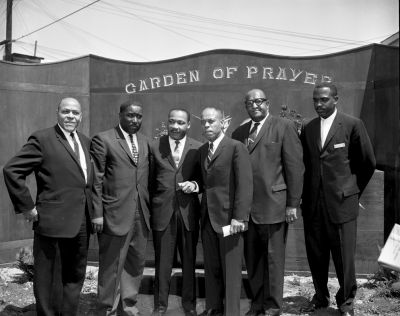 The Tom and Ethel Bradley Digital Photograph Collections include the work of renowned Los Angeles-based African American photographer Charles Williams, who was at the forefront of photography in Los Angeles during the 1930s and 1940s. Born in 1908, Williams did not take a direct path to photography. In 1913, he relocated to Los Angeles from Fresno with his mother, sister, and brother. Williams returned to Fresno during high school and began playing football, which did not last long. When the local black band was in need of a banjo player, he responded. Although Williams had no experience on the instrument he borrowed one and taught himself how to play well enough to join the band within a few weeks. His career as a banjo player and vocalist up and down the Pacific coast lasted five years. Williams never finished high school, but returned in the 1960s and took equivalency courses to graduate.
In 1936, Williams married Yoshi Kuwahara. When the music business began to slow down he went to work as a runner for Dean Witter Stock Brokerage in Beverly Hills. During World War II, Williams chose to relocate with his Japanese wife Yoshi and their daughter Yoshi to Chicago to avoid having them sent to a relocation camp. After fighting to have his family returned to Los Angeles following the death of his mother, theirs was one of the first interracial reunions back to Los Angeles.
Williams' photographic career spanned over forty years. During that time, he worked for the Pittsburgh Courier, the Los Angeles Sentinel, the California Eagle, and other publications. In 1947, Williams co-founded the California School of Photography in the heart of the African-American community. He was instrumental in documenting both influential and everyday people in post-war Southern California. He photographed African Americans in entertainment, politics, sports, and civil rights, including Dr. Martin Luther Kings Jr.'s many visits to Southern California.
Images from the Cavalcade of Jazz provide an excellent example of Williams' photographs of entertainers. In 1945, Leon Heflin Sr. began producing the Cavalcade of Jazz, the first large outdoor jazz entertainment event of its kind at Wrigley Field in Los Angeles. During the 1948, annual Cavalcade of Jazz, Williams captured images of some of the biggest stars of the Swing and emerging Bebop eras of Jazz, including the first integrated all-female big dance band, The International Sweethearts of Rhythm; singer, songwriter, and actor Frankie Laine; and Bebop creator, Dizzy Gillespie.
Although Williams' photography school closed its doors long ago, modern technology allows for the preservation of his work. His photographs provide a visual documentation of the history of African Americans in Los Angeles. It is used to educate students, scholars and the public. Over 5,000 digital images are contained in the Charles Williams Photographic Collection on the Library Digital Collections website.