The 6.7-magnitude Northridge Earthquake occurred at 4:31am on Monday, January 17, 1994. Its epicenter was around Wilbur Avenue and Arminta Street in Northridge, about a mile from campus. The earthquake and subsequent aftershocks caused extensive destruction to the Northridge and Sherman Oaks areas. Numerous buildings on the California State University, Northridge campus sustained severe damage, including the library. A second library building on campus, known as the South Library, was so badly damaged it was condemned and slated for demolition after the quake. CSUN's digitized University Archives include numerous photographs, reports, memoranda, artifacts, and ephemera documenting the earthquake and its aftermath, including a brick from the demolished South Library, pictured here.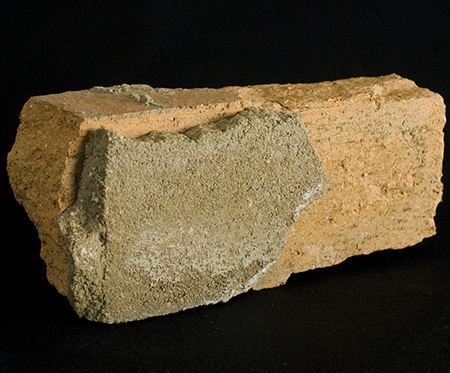 CSUN's faculty, staff, and students pulled together in the earthquake's aftermath in order to keep the campus operating. In an era before widespread internet use, signs were posted on major roads encouraging students and others to call a phone number for up-to-date information. Staff and faculty worked out of tents that served as temporary offices and information centers on campus, and managed to get the Spring 1994 semester started just two weeks later than originally planned. Other universities in the area also offered support, and in February 1994 students returned to a campus still filled with emergency and construction workers to attend classes in trailers and tents.
In the library, 90% of the books in the stacks were dumped onto the floor because of the earthquake's up-and-down and side-to-side motion, though much of the braced and reinforced shelving remained standing. For the Spring 1994 semester, a 10,000 square foot tent, called the Lindley Library Dome, doubled as a temporary study area and housing for fine arts collections, instructional materials, and microforms. 
The library core, a concrete structure built in the early 1970s, was damaged in the quake but restored for service by the fall of 1994. The east and west wings, completed just three years prior to the earthquake, were initially to be saved and renovated, as well. Subsequent aftershocks caused irreparable damage and they ultimately had to be demolished and rebuilt before full service was restored in the fall of 2000.
On January 15, 1995, commemorating the one-year anniversary of the 1994 earthquake, President Bill Clinton visited and spoke on campus. Praising his administration's efforts to facilitate the recovery, Clinton stated, "I said that we wouldn't let you pick up the pieces alone, that we would stay on until the job is done. Twenty-seven federal agencies worked with state and local officials in unprecedented ways and this was the most efficient and effective disaster operation in American history. [CSUN] is a symbol of the ability of the people of this state to keep coming back (following) adversity after adversity."