Milton Geiger wrote radio and television scripts as well as motion picture plays, theater plays, and short stories, some of which were performed or directed by Orson Welles, Bette Davis, Joan Crawford, Edward G. Robinson, Lorne Greene, and Richard Dreyfuss. The Milton Geiger Papers document his writing career from 1938, particularly the creative development and research he did in scriptwriting. The collection also documents the business workings of the radio and television industries through correspondence and legal documents between Mr. Geiger, various networks, studios, and his agents.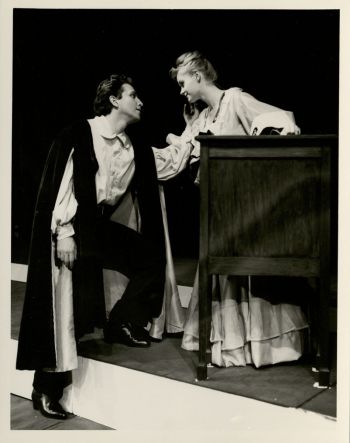 Geiger began his writing career in commercial radio in 1938, writing for popular shows such as County Seat, ABC Presents, Clap Hands, and the Four Star Playhouse. He continued to write for radio through the 1960s, including shows for the Armed Forces Radio and Television Service, the Federal Civil Defense Administration, and the New York War Fund. By the late 1940s, interest in radio entertainment began to wane as the public became increasingly fascinated by television. In the early 1940s, only one in ten Americans had actually watched television. By 1946, approximately 8,000 U.S. households had television sets, and by 1960, 45.7 million American households owned a television. Milton Geiger wrote for many early television shows, including You are There, Perry Mason, Dragnet, and General Hospital.
The radio show You Are There first aired under the title, CBS is There, in July 1947. The show presented newsroom style reporting on great events of the past, giving audiences a unique look at history. The radio program transitioned to television in 1953, and Geiger submitted his script, "The Witch Trial at Salem, Massachusetts," which aired on March 29, 1953 and again with revisions in 1956.
Perry Mason, one of the earliest court dramas (broadcast from 1957 to 1966), featured a fictional Los Angeles defense attorney played by Raymond Burr. Geiger collaborated with Walter Doniger and Joel Murcott to produce the Perry Mason episode, "The Case of the Crimson Kiss," which aired in the show's first year. Geiger also wrote for Dragnet, a crime drama which ran on the radio from 1949 to 1951 and transitioned to television in 1952. Dragnet starred Jack Webb as Los Angeles police detective Sgt. Joe Friday. Geiger's Dragnet episode, The Big Tattoo, aired on November 15, 1956. He wrote more than a dozen episodes of the soap opera, General Hospital, which premiered in 1963, and celebrated its fifty year anniversary this past August.
Milton Geiger is best known for his stage play, Edwin Booth, which opened on Broadway in November 1958, starring José Ferrer, Lorne Greene, Ian Keith, Lois Smith, and Richard Waring. The play focuses on the life of Edwin Booth, the 19th-century actor whose brother, John Wilkes Booth, murdered Abraham Lincoln. Although the show only ran for twenty-four performances in New York, the play was widely produced in smaller playhouses and on college campuses, including San Fernando Valley State College (now CSUN) in 1964.