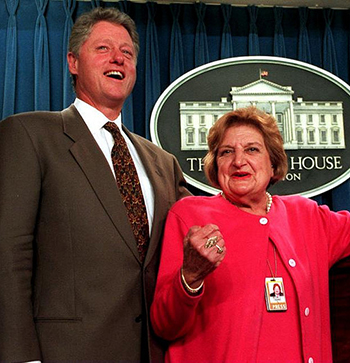 Special Collections and Archives houses a unique oral interview with Helen Thomas (1920-2013), long-time member of the White House press corps (1961-2010), in the Tom W. Reilly Collection. She was well known in the White House, among the press corps, and by political pundits. Her White House career spanned the service of ten presidents, from John F. Kennedy to Barack Obama. She was also the subject of a 2008 HBO documentary, Thank You Mr. President: Helen Thomas at the White House, directed by John Kennedy's niece Rory Kennedy.
Tom Reilly, a former professor of journalism at California State University, Northridge and a former journalist for the Daily News, interviewed Ms. Thomas in 1987, on the 24th anniversary of JFK's assassination. In the interview, she presents a unique account of the events with her impressions of the assassination and its immediate aftermath. Ms. Thomas recalls where she was on November 22, 1963 and what she was doing when she heard the news, as well as actions and events that followed. She said, "These four days were everything a journalist could ever ask for, even in all its tragedy." She also gave her impressions of Jacqueline Kennedy, "she did rise to the occasion," and the children, Caroline and John Jr.
The almost two-hour interview also addresses her family's immigration from Lebanon, her upbringing, and her family life. Topics related to her work include her social circle in Washington, D.C., working at the While House, Dwight Eisenhower, Eleanor Roosevelt, Ronald Regan, and women in journalism during the early years of her career.