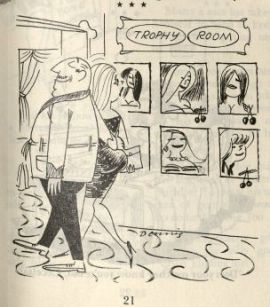 Everyone has a sense of humor and in Special Collections & Archives, there are many kinds of jokes and humor in our collections. Some humor is provocative and racy, or culturally humorous, or satirical. Depending on who the audience is, it can sometimes be understood in various contexts.
A few of our humorous items can be accessed in the reading room, including The World's Best Dirty Jokes, Giant Book of Dirty Jokes, and Talking Dirty: A Bawdy Compendium of Colorful Language, Humorous Insults & Wicked Jokes , to name a few. Each of these is a collection of racy jokes and cartoons, and are part of the Vern and Bonnie Bullough Collection on Sex and Gender. More titles which are a part of the Bullough Collection can be found in the CSUN library catalog.
Other humorous materials, such as the Herbert Sigüenza, Richard Montoya, and Ric Salinas Culture Clash Collections, can also be found in Special Collections and Archives. Culture Clash was a comedy troup active between 1980s and early 2000s. They toured renowned venues including the Kennedy Center in Washington, DC, the Lincoln Center in New York City, the Huntington in Boston, the Goodman Theatre in Chacago, The Alley theatre in Houston, Texas, the Seattle Repertory Theatre in Seattle, and the Mark Taper Forum in Los Angeles. Culture Clash focused and directed its humour around Chicano culture. Within the Culture Clash collections you can find playbills, scripts, and other materials from their performances.  
Jokes and humor are an important part of public discourse in our society. The introduction to "Talking Dirty…" makes the point that "…they shed much light on human nature, on moral value systems, and on the psychological, linguistic, and social aspects of language." Though some jokes may be racy, politically, or racially inclined they are also indicators of our language and human nature.