Posted on November 07, 2014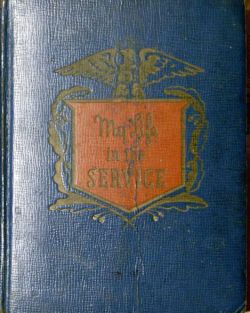 Lee William Mayo was born on August 15, 1915 in Clover Township, Jefferson County Pennsylvania, the third child of Pennsylvania farmers, Dick and Lina Witherow Mayo. He enlisted in the United States Army on October 15, 1941 at Fort Meade in Maryland and was initially stationed at Camp Lee, Virginia. Following the Japanese attack at Pearl Harbor, Mayo served at various locations in the South Pacific and the Philippines, and kept a diary of his experiences which is part of the Lee W. Mayo Collection. The "My Life in the Service" diaries were produced by Consolidated Book Publishers, Inc. of Chicago, Illinois. The opening pages urge service members to keep a diary.
"Your experiences in the armed forces of your country are part of living history… This book, conscientiously kept, may prove to be the living record of your destiny five hundred years from now." "Especially planned for convenience, this book has designated pages for every pertinent entry –  names, addresses, dates, places, people, autographs, and photographs. By all means  PHOTOGRAPHS! One picture is said to be worth a thousand words … get as many pictures as you can, of people and places, for an illustrated diary is the best of all!"
The diary of Lee William Mayo covers the period of July 23, 1944 through December 18, 1945. From the diary, we learn that Mayo was married to Dorothy Irene Mayo living in Mayport, Pennsylvania. His diary mentions traveling to Oro Bay and the Sentani Airstrip in Papua New Guinea, Peleliu in the islands nation of Palau, and Leyte in the Philippines.  
His entries, though short, provide insight into the daily duties of a non-combat soldier in war,  Japanese suicide bombers, civilian populations on some of the islands, relationships with Australian soldiers, personal illnesses that include "jungle rot" and "yellow jaundice," his fellow soldiers, and the weather. He included several pages of "My Buddies in the Service," listing both names and contact information, though he chose not to list anything in the "Officers I have Met" or the "Civilians I have Met" sections.
As you can see from the following examples, all of which are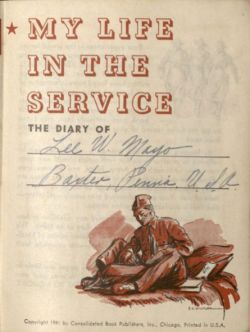 from 1944, Mayo's service was a series of daily and pedestrian chores punctuated by a glimpse of the war.  Note patriotic, heroic, or otherwise inspirational quotes preprinted at the bottom of the pages in the diary.
July 31

Started at noon today and now it's 10:00 P.M. and I think we're going to Panama Canal. The sea is so rough I can hardly write, I just came from top deck and the waves are 20 ft. and it still isn't a storm, we are supposed to hit the main storm about morning, about everyone is sick …

August 10

We sighted something tonight must have been an enemy sub, we were called on deck to our abandon ship stations and [held] for about ½ hour. The ship is taking a zig zag course and if it was a sub the danger is [over], it was a funny feeling to stand on deck and wait for something to happen …

September 3

K.P. today, hooked some canned fruit from Mess Hall, wrote Dot, making a wedding band from a florin

October 5

Found out the reason those natives made such a fuss wasn't because I was nude but they are superstitious and won't cross a stream below or above where a man is bathing in the nude if I would have put a towel around myself they would have crossed.

November 25

I started my collection of butterflies.

December 1

Worked all nite packing and taking down tents. Went to Sentinia [Sentani] strip at 3:30 a.m. loaded ship, left strip at 5:30 a.m. Saw 7 Jap boats along beach that had been wrecked, sighted them at 6:50 a.m. … left at 11:20 a.m., am at Peleliu  at 2:40 P.M., its [sic] one of the Peleliu Groupe [sic], its [sic] 2 mi. W. 6 mi. L. and has a wonderful airstrip, port not so good, rough water, island just rated as secure two days ago, no high hills but there [sic] full of caves and dead japs, only took 100 prisoners out of 18,000 Japs most of them commit suicide with a grenade, Japs worked 30 years fortifying this place, have walls with 12 in. concrete walls and steel doors, staying in transition camps tonite, [?] Wilson the boxer, I came over w/ him, going to show tonite if it stops raining.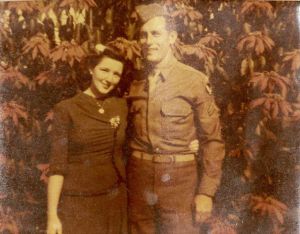 Many WWII "My Life in the Service" diaries can be found online, some in archival digital repositories, and others on Facebook. These diaries serve as a valuable resource for understanding and gaining insight into the complexities of war, the the mundane details of daily life as well as the challenges and difficult experiences faced by thousands of service men and women who served during World War II.