Thanksgiving is a holiday celebrated in the United States, in which family and friends gather together to have dinner and give thanks. Special Collections and Archives holds several items that relate to how people celebrate the Thanksgiving holiday. While some people have family traditions that include feeding their entire family and friends at their home with a large turkey dinner, this is not always the case. Some have to be away from home and celebrate somewhere else because they are not close to home.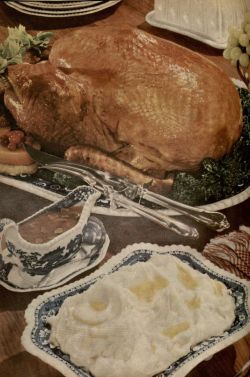 Many Americans celebrate the Thanksgiving tradition by getting together and having a wonderful time with family and friends. This happens so often that they create a fancy party out of it. Better Homes & Gardens published a Holiday Cook Book, which can be found in the Culinary Collection, and has a wonderful array of traditional and non-traditional Thanksgiving recipes, including turkey, gravy, corn bread, and pie recipes for those who need a little assistance in the kitchen. The Catherine Mulholland Collection contains photographs of this type of family tradition, which picture Catherine Mulholland and her family having a nice gathering at home.
Special Collections and Archives also holds  poetry and literature that relate to holiday events, and Thanksgiving is no exception. One such work, "A Poem of Thanksgiving," expresses what the author is thankful for. Another Thanksgiving themed piece is "Thanksgiving Spirit" by James T. Farrell, contained in The Short Stories of James T. Farrell.
Although Thanksgiving is a time to give thanks and celebrate with friends and family, some do not have the opportunity to share the holiday with loved ones due to war or other kinds of struggles.  The American Expeditionary Forces scrapbook is an example of a Thanksgiving celebration during war. In this photo scrapbook, there are images of soldiers and pilots as well as citizens with goats, monkeys, and donkey carts, and one set of photos that depict Thanksgiving festivities.
Another example of the Thanksgiving holiday during difficult times is contained in the Paul Kelly Los Angeles Typographical Union, Local 174 Collection. Although there was a strike on the Herald-Examiner, participants still made time for friends and families to get together and eat dinner for the holiday. During the best of times and the worst of times, Americans set aside time to celebrate with family and friends and to give thanks for what they have.