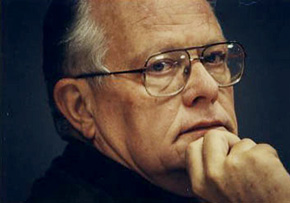 Special Collections and Archives is happy to announce that the newly processed papers of historian and sexologist Dr. Vern L. Bullough are now open and available for research. Bullough married his high school sweetheart, Bonnie, in 1947. The couple had two sons (David, 1954 and James, 1956), the oldest dying tragically when hit by a car during the Bulloughs' 1967 Fulbright year in Egypt. They expanded their family further through adoption of Steven (1958), Susan (1961), and Michael (1966).
Dr. Bullough began his career as a medieval historian authoring such titles as Sexual Practices & the Medieval Church; and Man in Western Civilization. He also worked extensively with his wife, who was a nurse. Many of their co-authored or co-edited works deal with nursing or human sexuality. Their credits include Cross Dressing, Sex, and Gender; Women and Prostitution: A Social History; and The Emergence of Modern Nursing. This collaboration with Bonnie spurred Vern to pursue a degree in nursing at California State University, Long Beach, which he completed in 1981. He later taught human sexuality courses at several universities including SUNY Buffalo, UCLA, and the University of Southern California. After Bonnie's death in 1996 Bullough formed a domestic partnership with former colleague Gwen Brewer, a member of the CSUN English Department, in 1998.
Dr. Bullough was very active professionally and personally. He was a member of several professional organizations, including the Society for the Scientific Study of Sexuality, the Medieval Academy, American Historical Association, American Nursing Association, Sexuality Education and Information Council of the United States (SECICUS), and the American Association of Sexuality Educators, Counselors, and Therapists (AASECT). He was also the co-founder the now defunct Center for Sex Research at CSUN. Vern was active in local politics, running for California State Assembly in 1970, was a founding member of the Fair Housing Council of the San Fernando Valley, and was active in the ACLU in Youngstown, Ohio, Los Angeles, and Buffalo, New York. The focus of the Vern L. Bullough Papers is primarily on Bullough's research and writing in the field of sexology. Particularly well represented are the subjects of human sexuality, homosexuality, transsexuality, and women and prostitution.
Vern Bullough began donating his research library to the library in 1973 and assisted in the acquisition of several archival collections from friends and colleagues. With over twenty archival collections and over 9,200 cataloged publications available for research, Dr. Bullough's papers are the centerpiece of the Vern and Bonnie Bullough Collection on Sex and Gender. These materials see regular use as resources for CSUNs Gender and Women's Studies and Queer Studies capstone projects culminating in the annual Sex in the Library student research event. This two-day event includes the Queer Studies Student Research Symposium and the Gender and Women's Studies Student Conference. Students have the opportunity to present their research to their peers and compete for Bullough Scholarships.