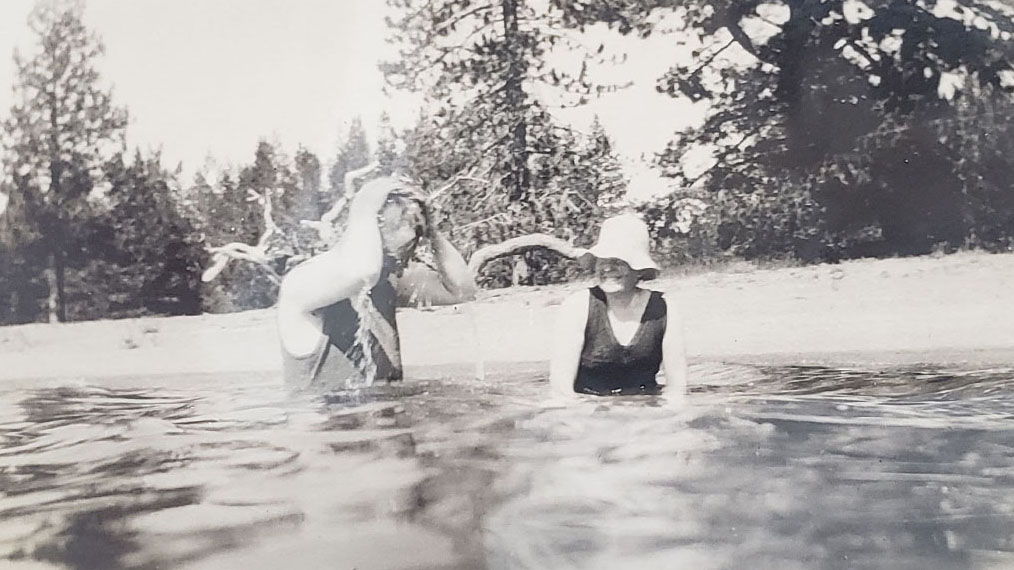 As we all begin to venture out in the Spring and Summer, we feel the need to leave our homes and travel out into the world. Some of us use the time to travel overseas, however to keep costs low, one option is to travel locally. California is so expansive that it has a lot to experience all within the state. While traveling many of us now use our phone cameras and social media to document and remember our vacations. This post will look at two items in Special Collections that illuminate what others did to commemorate California travel before cell phones.
In Betty and Martin's Travel Journal, a married couple dedicated a little bit of time each day to write a journal entry about their travel. The journal spans the 1930s. In the Johnson Family Echo Lake Photograph Collection, a family commemorated their trip to Echo Lake in 1922 with photographs. These two collections are great examples of what people did, where they stayed, what they wore, and more in the past while on vacation. Nowadays many of us still write in journals and diaries to remember the days as they were, but many others only keep text or photographs on their phones as they live their daily lives and their travels.
Betty and Martin detailed their vacation trips to different parts of California, ranging from San Francisco to southern California. Some of the details in the journal entries include their departure times, their meals, and the weather. In one journal entry it says, "April 3, 1932 Big Pines...it cooled as sun rose. Drove via Foothill Blvd. Very pretty through Monrovia & Upland." The entry then moves on to talk about the, "snow peak above haze of valley," and other highlights about the drive. At the end of their travel journal they include a map of California, with glimpses of Oregon and Nevada.
The Johnson Family Echo Lake Photograph Collection is a different kind of retelling of a trip. This collection consists of loose photographs, most of which were taken on a 1922 vacation to Echo Lake in California, located southwest of Lake Tahoe. In the photographs we can see the family standing on the road next to their cars and a cabin with pine cones decorating the front porch. There are also photographs of the family swimming and standing next to some rocky and wooded areas near the lake, and one photograph from the pior year of the family enjoying a stay at Pioneer Lodge.
As many of us start getting out of the winter mentality and going on trips during the beautiful Spring and Summer months, it is nice to look back at the trips of those in the past. These images and travel journal give us a glimpse into what California was like in the early 20th century. The cars, the roads, the travel distances, and the views will probably be different 100 years later. Also, a reminder to continue to make memories in places we have been.