This month marks the twentieth anniversary of National Poetry Month, established by the Academy of American Poets to raise awareness and appreciation for poetry, to celebrate and highlight the extraordinary legacy and cultural contribution of poets, and to encourage the reading of poetry beyond the classroom. Special Collections and Archives holds hundreds of books of poetry, each unique for its singular beauty and its place in time and memory.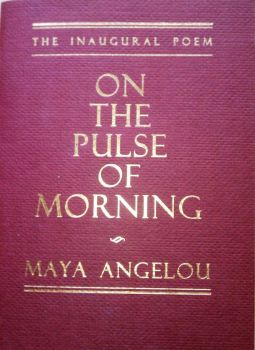 As book artist Harry Reese notes, "When we touch books we bring together materials and ideas. We find a way to touch words, visual impressions, and feelings. Language is our primary medium for describing both our experiences of the world and our refusal to accept its terms." There are many different types of book art, including fine press and fine binding, and artists books. Tamerlane & Other Poems is a fine press book printed exclusively for philanthropist William Andrews Clark, Jr. as a Christmas book for distribution among one hundred fifty of his closest friends. Artists books, such as Flowers of August, often combine the creative traditions of paper making, book binding, printing, and original art with previously published works of poetry. This fusion of art and language can only be experienced through the senses by physically holding the object, and considering the art in relationship to the language of the poem.
Books of poetry may be considered rare for a variety of reasons. Ouâbi or, The Virtues of Nature, an Indian Tale in Four Cantos, by Sarah Wentworth Morton is one of the first long narrative poems published by an Anglo-American woman. Leaves of Grass by Walt Whitman was first published in 1855 by his friend Andrew Rome, a job printer who owned a tiny shop in Brooklyn, New York. Eight hundred copies were struck on a hand press with Whitman himself setting the type. The second edition was published by Fowler and Wells in 1856. Special Collections and Archives holds the third edition of Leaves of Grass which included 122 additional poems and is is considered by many critics to be the most successful of the early publications.
Many books of poetry in Special Collections and Archives are limited editions, signed by their authors, such as the Collected Poems of Robert Frost, The Dicksboro Hotel & Other Travels by Wanda Coleman, and Howl and Other Poems by Allen Ginsberg. Howl was first performed at the Six Gallery in San Francisco on October 7, 1955, along with readings by fellow poets, Gary Snyder, Philip Lamantia, Philip Whalen, Michael McClure and Kenneth Rexroth. Shortly after this performance, City Lights Bookshop owner Lawrence Ferlinghetti agreed to publish the piece. When U.S. Customs released the paperback version of Howl that had been printed in London, Ferlinghetti and his partner, Shigeyosi Murao, were arrested by San Francisco police on obscenity charges for which they were later acquitted. Special Collections and archives holds two copies of Howl, one in near new condition, the other coffee stained, dog-eared, and much loved, with the inscription "Allen Ginsberg to Philip Whalen."