The 1968 East Los Angeles student walkouts began a rise of Chicano activism. A flash point was the Chicano Moratorium march on August 29, 1970 in East Los Angeles. On that day, the tragic deaths of four people included the celebrated Los Angeles Times journalist, Ruben Salazar. One organization to grow out of this turbulent period is Comisión Femenil Mexicana Nacional (CFMN).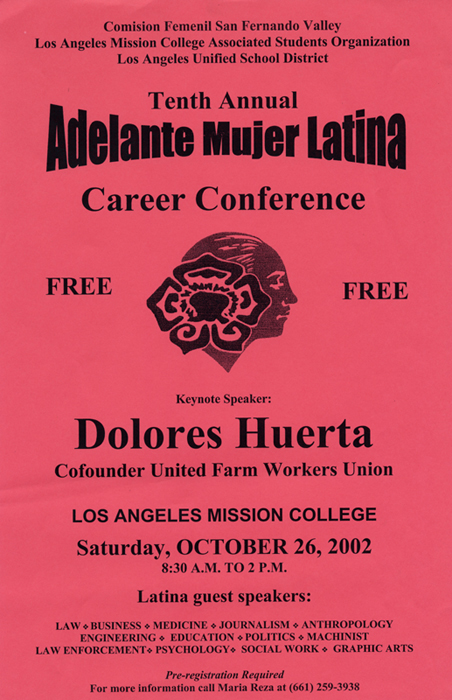 The organization had its beginnings in October of 1970 at the National Chicano Issues Conference. Consensus among conference participants was that the issues of Chicana women were not being addressed. Soon after, the Comisión Femenil Mexicana Nacional (National Mexican Women's Commission, CFMN) was born. The focus of CFMN was to address political and economic empowerment, and social issues that affected Latina women. In the early 1970s at California State University, Northridge, a group of Latina faculty and staff started an organization called Mujeres de la Raza. From the beginning, the focus of the group was to improve the success and wellbeing of young Latinas.
The founding group of women began to recruit other Latina professionals from the community, and in 1991, Mujeres de la Raza formally changed their name to Comisión Femenil of the San Fernando Valley (CFSFV). In 1992, the CFSFV held its first annual student scholarship competition. Since that time, the Dr. Karin Duran Memorial Youth Scholarship has grown in the number of applications and the amount given to the students. In 1997, when the group's articles of incorporation were filed with the California Secretary of State, Corina Alarcon, Andrea Alarcon, and Laura Casas-Frier were listed as initial directors. In 2004, Corina Alarcon a CSUN alumnus was appointed to the Los Angeles Police Commission by Mayor James Hahn. Andrea Alarcon was appointed to the Los Angeles Board of Public Works in 2009.  Laura Casas Frier was appointed to the Board of the Foothill-De Anza Community College District in 2005.
One of the primary events of CMSFV is the annual Adelante Mujer Latina Conference. The 2016 event is scheduled for April 2nd and is focused on providing young women with tools for personal and professional growth by challenging them to raise their expectations, and promoting post-secondary education. The conference includes workshops presented by Latina professionals on education, careers, financial aid and personal development, keynote speakers representing California's influential Latinas, and representatives from colleges, universities, community organizations, corporate and government employers.
Although the CFMN has disbanded, today the CFSFV is the longest surviving chapter of the national organization. The Comisión Femenil San Fernando Valley Collection provides a rich and unique history of Latina activism. Related research collections that cover Latina women's history include Juana Beatriz Gutiérrez Mothers of East Los Angeles Collection, and the Latina(o) Cultural Heritage Archives.