This semester, some Peek in the Stacks blog posts will be authored by CSUN students who work in Special Collections and Archives.This week's post was written by Carlos Vazquez, a student assistant in the International Guitar Research Archives. Carlos is a graduate student majoring in classical guitar.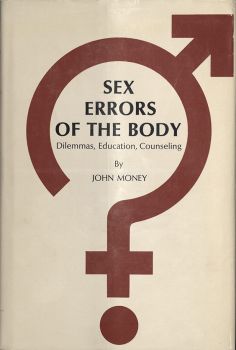 The Jan Dailey and John Money Correspondence Collection documents the shifting understanding of sex and gender identity in psychology and psychiatry in the late 20th century. The collection contains letters, articles, and photos from 1974 to 1996 that focus on topics such as sexual identity, gender identity, and gender roles. Jan Dailey is an author, publisher, and sex researcher who co-wrote the audiobook, Erotica by/for Women, and was a publisher for Spectator Magazine, an adult magazine published weekly in San Francisco, California. Dr. John Money was a renowned sex researcher, psychologist, author, and joint professor of pediatrics and psychiatric & behavioral sciences at Johns Hopkins University, whose practices were considered both innovative and controversial.
Money was the psychologist connected to the David Reimer story, which made headlines in the 1970s and 1980s. In 1969, Reimer's parents were advised by Money to raise their son David as a female after an accident occurred during the toddler's circumcision that irrevocably damaged his penis. Money believed that environment was a major factor in a person 's gender identity, and used the story of Reimer as evidence to support his research. However, by the time Reimer was a teenager, it became clear that Money's treatment and advice had failed and Reimer identified as a male. Sadly, Reimer committed suicide at the age of 38, an tragic event which greatly damaged Money's reputation.
The correspondence between Dailey and Money begins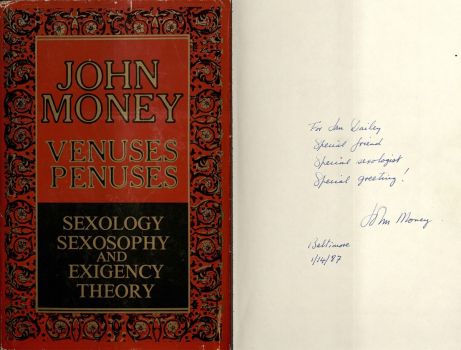 in 1979 when Dailey wrote to Money asking if living near an airport might have an effect on a couple's sex life. This letter is then followed by a series of letters ranging from 1979 to 1996 discussing research, patients, and personal topics. The personal letters highlight a friendship between Dailey and Money, and include postcards, detailed descriptions of trips to foreign countries, and humorous postage stamps.
The articles in this collection are published by The Johns Hopkins School of Medicine, Psychology Today, Los Angeles Times, and New York Times. One of the more interesting articles is found in Psychology Today, an interview from 1988 focusing mainly on Money's research in gender identity and sexuality. The interview explores Money's perspectives and interpretations of how gender and sexuality develop. He discusses sexual exploration, describes how some cultures view homosexuality as a rite of passage to manhood, and how he challenges the "antisexual" attitudes of the modern era. He goes on to discuss his views on the relationship between environment and gender, and the influence of environment on gender ambiguous children.
One of the most interesting parts of this collection is eighty-eight photographic slides from the 1982 International Lesbian & Gay Freedom Day Parade in San Francisco, California. Organizations represented in the parade included the Affirmation Gay and Lesbian Mormons, California Anti-Sexist Men's Political Caucus, Gay Christian Scientist, The Gay Latino Alliance, Gay Synagogue, Metropolitan Community Church, Pacific Center Berkley, Parents and Friends of Gays San Francisco, Presbyterians for Gay and Lesbian Concerns Pacific Region, San Francisco Sex Information Switchboard, and The Society of Janus. The slides also include images of protests aimed at cultural or political change, such as civil rights issues, gay awareness, gender equality, and U.S. intervention in Latin America and the Middle East.