Posted on December 01, 2015
While food and drink are strictly prohibited in Special Collections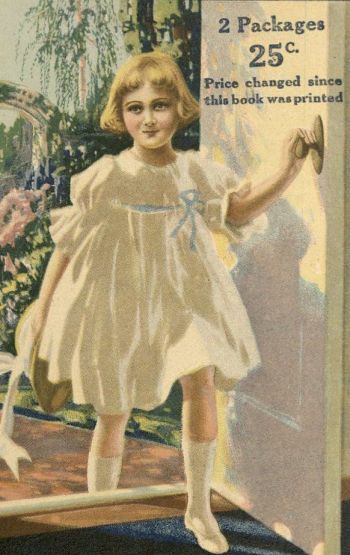 and Archives, the department houses a number of items sure to interest amateur foodies and trained gourmets alike. The Culinary Pamphlet Collection includes recipe booklets, advertising literature, and cooking equipment brochures, most of which were published in the United States between 1871 and 1965. Together these materials provide a glimpse of how American kitchens (and appetites!) have changed over time, especially in relation to how food is prepared, stored, and presented.
Many of these recipe pamphlets were published by companies that specialized in cooking ingredients—like flour, corn, baking powder, and corn syrup—or companies that manufactured cooking equipment. The Genesee Pure Food Co., known best as the makers of Jell-O, published many recipe books dedicated to "America's Most Famous Dessert," including a 1917 booklet called All Doors Open to Jell-O. The booklet offers more than just jiggly dessert recipes; it also includes recipes for a variety of salads, such as the Thrifty Salad made of Salmon, Peas, and Jell-O! Yum! At the time of publication, a package of Jell-O cost 10 cents apiece and was available in seven flavors: strawberry, raspberry, lemon, orange, cherry, peach, and chocolate. Today Jell-O is owned by Kraft Foods and is available in more than sixty flavors. The Savory Prize Recipe Book published in 1922 by Savory, Inc. introduces recipes specific to the company's Steam Double Boiler. The pamphlet boasts their product will not only save food value, flavor, and natural color typically lost by boiling, the Savory Steam Double Boiler also "saves the housewife" by freeing her up to address other tasks when she follows Savory's foolproof cooking directions.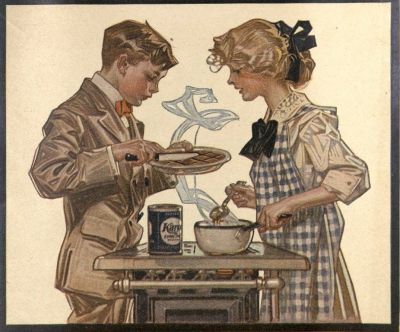 One recipe pamphlet of particular interest was published not by a food company, but by a medical company—the Chattanooga Medicine Company of Chattanooga, Tennessee. Zeboim Carrter Patten, a Federal soldier, organized the Chattanooga Medicine Company shortly after the end of the Civil War and began large-scale manufacturing of medicinal elixirs such as Thedford's Black Draught and McElree's Wine of Cardui. Patten marketed his products throughout the New South, as well as Kentucky, West Virginia, and Missouri where many barns and buggy sheds were painted with advertisements for the potions. In 1912 the Chattanooga Medicine Company devised another advertising scheme and published the Cardui Cook Book, "free, to any lady, on request." While the pamphlet is full of recipes for dishes like baked apple dumplings and corn fritters, it is also littered with ads for Patten's tonics and includes exaggerated medical "advice" for ailments such as liver trouble, constipation, and womanly weakness.
In addition to recipe pamphlets, the library's Household Recipe Book offers a collection of handwritten recipes from the 1800s bound in beautiful red and cream calico-printed cloth. Many of the recipes in this book are dated, like the Hot Sauce recipe from January 24, 1868 made of raisins, brown sugar, salt, ginger, onions, garlic, mustard seed, chilies, vinegar, and "unripe but not green" gooseberries. The book also includes recipes for Marking Ink and other household supplies.
The Charles H. Peterson Pocket Diary Collection includes a number of handwritten journals from 1863 to 1865 penned by Mr. Peterson, a Union volunteer during the Civil War. Tucked inside his diary from 1864 is a recipe for Pouncing Powder, used to smooth paper and dry ink when writing with a quill or nib pen. While Mr. Peterson's Pouncing Powder isn't an edible delight, more recipes, cook books, and kitchen advertisements can be found by visiting the library catalog for the complete listing of Special Collections and Archives' Culinary Collection.