by Keith Rice, Ph.D., Historian/Archivist, Tom & Ethel Bradley Center
While we are working, attending class, and doing so many other things from home, our blog posts will focus on materials that have been digitized and can be accessed remotely. We'll continue to include links to our finding aids and other information about physical access, as well.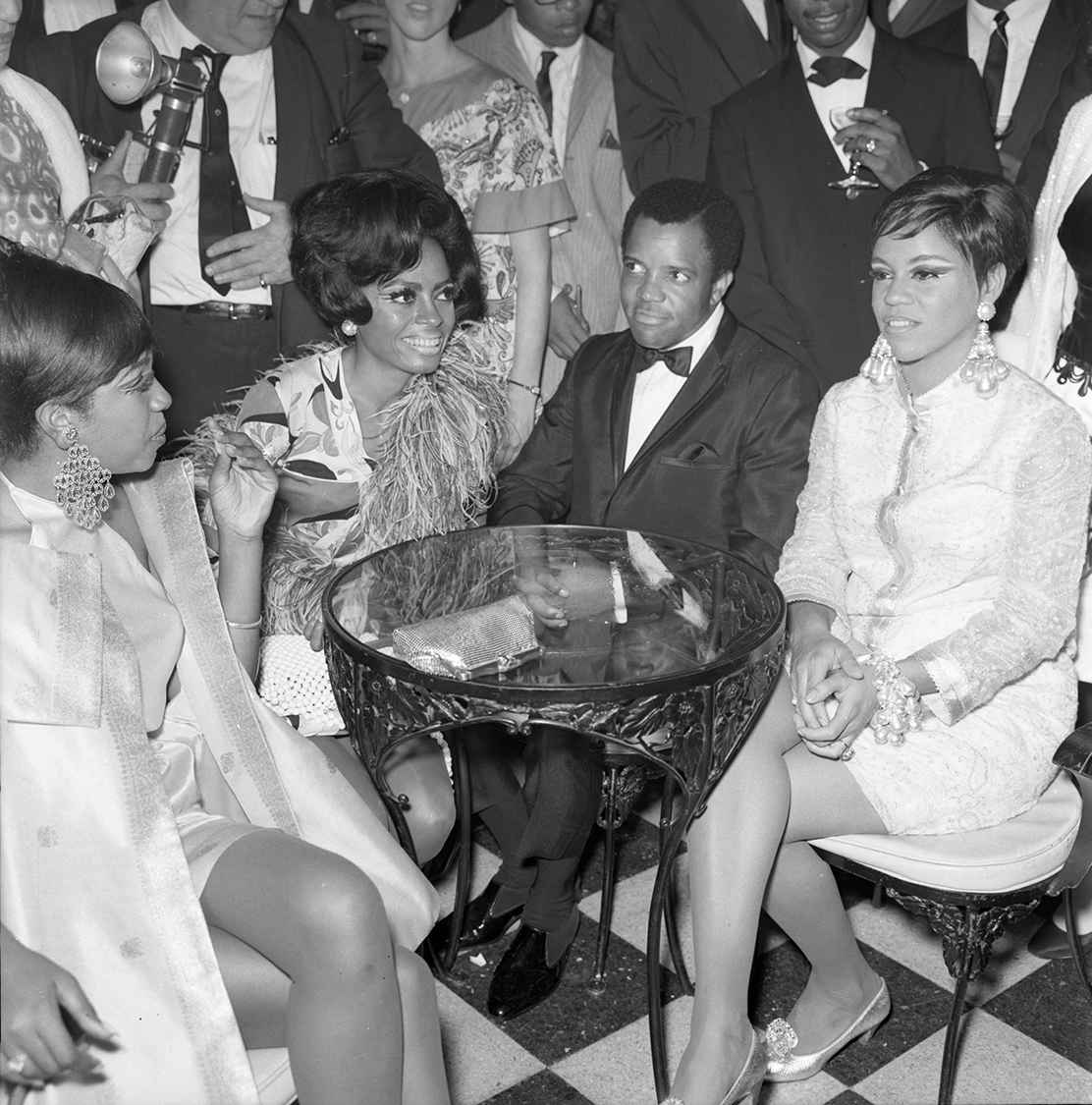 On January 12, 1959, Berry Gordy Jr. founded Tamala Records in Detroit, Michigan with an $800 loan from his family. One year later it was incorporated as the Motown Record Corporation, a blended nickname that comprised the words Detroit had come to be known for, motor and town. The musical talent that Gordy assembled and groomed produced some of the most memorable songs and biggest stars in the entertainment world. At its peak, Motown Records was one of the most successful black-owned companies in the country. It relocated to Los Angeles, California in the early 1970s and now exists under the Universal Music Group. The Tom & Ethel Bradley Center Digital Photograph Collections include images that document the history of Motown Records after its relocation to Los Angeles.
Berry Gordy did not find immediate success in the career paths he explored prior to founding Motown. Gordy dropped out of high school in the 11th grade to pursue a career as a boxer. He boxed professionally until he was drafted into the Korean War in 1951 at age 22. Although Motown Records would produce some of the classic Soul and R & B hits of the 20th century, Berry Gordy was a lover of Jazz music. When he returned home from Korea he opened a record store that specialized in Jazz. Unfortunately, his clientele was more interested in buying Blues records, which he initially refused to sell. Gordy also sold Guardian Service Cookware before going to work on the assembly line at Ford Motor Company.
In 1957, he quit working at Ford to pursue his passion for songwriting. He wrote hit songs for singers Jackie Wilson and Etta James. Two years later, using all the knowledge he had gained from his previous employers, Gordy felt confident enough to become his own boss. He used the competitive nature of boxing among Motown's producers, songwriters, and singers to produce superior musical products. Selling cookware honed his skills in the art of closing business deals. Finally, he applied the assembly line model of the automobile industry to produce superior records and talent that were appealing to audiences around the world. Raw unrefined talent would come into Motown, but polished songs and entertainers would roll out its doors and onto the world stage.
Motown's ability for identifying and matching musical talent with detailed management of its artists' public image made it an international success. In 1959 Motown produced its first hit record, "Money (That's What I Want)" performed by Barrett Strong and co-written by Gordy. Many artists would do their own versions of "Money" including The Beatles. In 1960, Motown produced its first million seller, "Shop Around" performed by The Miracles and written by Gordy and their lead singer, William "Smokey" Robinson. Over the next decade, Motown signed such artists as the Supremes, Marvin Gaye, the Temptations, Jimmy Ruffin, the Contours, the Four Tops, Gladys Knight & the Pips, Martha and the Vandellas, Stevie Wonder, and the Jackson 5.
During the mid 1960s Motown established satellite offices in New York and Los Angeles. By 1969 it had started moving more of its operations to Los Angeles to be near the center of the entertainment industry. In June of 1972, it completed the move of all its operations to Los Angeles. Many of its artists either stayed behind or left the record label. It was the beginning of a new era for Gordy and Motown Records. Motown Productions was created to develop film projects. Its first two projects, the Billie Holliday biopic Lady Sings the Blues (1972) and Mahogany (1975), were hit films that starred Diana Ross, the former lead singer of the Supremes. Motown continued to produce highly-rated films and television shows, but by the 1980s it was no longer the musical force it had been during the 1960s and 70s. Musically, the company retained acts such as Stevie Wonder, Smokey Robinson, and the Temptations while attracting a new roster of talented artists that included Rick James, Teena Marie, the Dazz Band, and DeBarge.
Gordy sold his interests in Motown Records to MCA and Boston Ventures on June 28, 1988, for $61 million. He later sold most of his interests in Jobete Publishing to EMI Publishing. Gordy wrote or co-wrote 240 of the approximately 15,000 songs in Motown's Jobete music catalogue. In 1993, Polygram paid over $330 million for Motown Records. In 2019, during Motown's 60th Anniversary celebration at Detroit's Orchestra Hall, Berry Gordy announced his retirement at age 89. He is presently involved with the $50 million expansion of the Motown Museum, which is housed in the company's first office and recording studio. Berry Gordy Jr. and Motown Records produced the sound track for the 1960s and 70s, quite an accomplishment for a dream that was founded on an $800 family loan and a man's love of music.