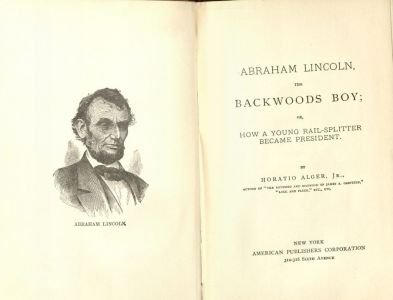 Horatio Alger, Jr. (1832-1899) was a 19th century American author who had much success after his death. He specialized in writing young adult novels, but also wrote poetry, short stories, and a few biographies.
Alger was born in North Chelsea, Massachusetts to Horatio Alger, Sr. and Olive Fenno. Alger, Sr. was a Unitarian minister in a local church. Alger's parents homeschooled him, and he was able to read and write by age 8. Alger, Jr. attended the Gates Academy for three years, graduating in 1847. During this period, a few of his  compositions appeared in local newspapers.
Aged sixteen in 1848, Alger entered Harvard University where Henry Wadsworth Longfellow was one of his professors, and where he excelled academically. In 1852, he was ranked 8th in his graduating class, earning membership in the Phi Beta Kappa honor society. As some researchers have commented, Alger's poetry contains similar patterns to the poems of Longfellow.
After graduating from Harvard, Alger worked as an editor, journalist, teacher, headmaster, private tutor, and writer. Following his father's wishes, he entered Harvard Divinity School in 1857 to become a minister. During these years, Alger often wrote serialized fiction to earn a living. Upon graduating from Divinity School, Alger did not seek a minister's position, but left for a year-long tour of Europe. During his adventures, he continued writing, and had some success publishing travel stories in the New York Sun. 
As the American Civil War began, Alger returned to a country in turmoil. He continued to write short stories but earned little money doing so. In the summer of 1863, he was drafted into the Union Army's Army of the Potomac. Before beginning military service, his physical exam revealed he had severe near-sightedness, and did not meet the height requirement. Alger was known to stand five feet two inches tall and was a thin man. For these reasons, he was released from military service. Nevertheless, Alger wrote many Civil War stories and poems for Harpers Weekly.
In the fall of 1864, Alger was appointed Minister of a Unitarian Church in Brewster, Massachusetts. He published his first juvenile novel, Frank's Campaign, in this period. Alger's position in Brewster lasted just a year. In early 1866, rumors of sexual impropriety at the Unitarian Church involving young boys were common in Brewster. A local investigation took place. Though no criminal charges were filed against Alger, he resigned from the church and relocated to New York City. He never worked as a minister again. 
Alger published three novels in 1866, but sales were disappointing. That same year he began visiting the Newsboys' Lodging House, a shelter operated for homeless boys run by the Children's Aid Society. In this community, Alger began accumulating material for his eighth novel, Ragged Dick, or, Street life in New York. Sales of the novel were good,  and a six novel Ragged Dick Series was developed. To supplement his writing commissions, Alger began tutoring students.   
Throughout his career as an author, Alger followed a writing pattern in his novels. The protagonist is usually an orphaned teen boy who begins a series of adventures to earn his keep in the foreboding big city. He triumphs over circumstances, and meets a wealthy benefactor. The boy's kindness, courage, and determination are usually rewarded by the sponsor. After a new business venture is started, the successful young man triumphantly returns to his rural root. Alger is most remembered as a champion of the "Bootstrap Myth" in which a young, disadvantaged person can always succeed if he or she exhibits courage, determination, honesty, and perseverance.
Alger did write a few nonfiction books, but even those have been described by critics as being largely fiction. He continued tutoring for many years, and some of his students became notable figures, including U.S. Supreme Court Justice Benjamin Cardozo. Alger died in 1899, virtually penniless. Ironically, he was most popular after his death when his works, reprinted as cheap dime novels, filled grocery store shelves by the thousands.