While October 20, 1947, seemed like an ordinary Monday for many Washington Congressional staffers, for a few the day was anything but. On this day, the House Un-American Activities Committee (HUAC) opened special hearings that were to last three weeks. The New York Times reported that almost fifty witnesses had been subpoenaed. With at least two witnesses committing suicide, this was the beginning of the end for many careers and a few lives.
First chaired by Martin Dies of Texas, the committee ultimately operated for almost forty years between 1938 and 1975. Among those called to testify that fall day in 1947 were Jack Warner, Vice-President of Warner Brothers, Louis Mayer, President of MGM, and Sam Wood, President of the Motion Picture Alliance for the Preservation of American Ideals. The purpose of the special hearings was to expose possible communist influences in the motion picture industry.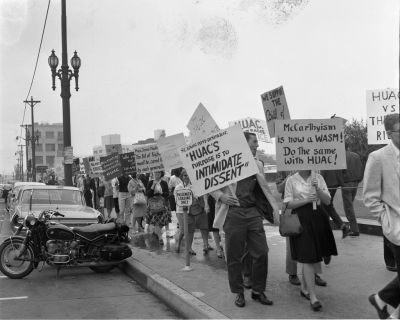 Though television was quite popular after World War II, going to the movies was even more popular than it is today. In 1947, Congressman J. Parnell Thomas of New Jersey was Chairman of HUAC, which worried that Hollywood was producing films with unintended or intended messages supporting communism. Of those subpoenaed, there was a group of friendly witnesses and a group of unfriendly witnesses. 
Friendly witnesses were expected to name names, and included Walt Disney, Ronald Reagan, and Sam Wood. Unfriendly witnesses, made up of motion-picture producers, directors, and screenwriters, included ten individuals. Once questioned by the committee, each person refused to answer questions on the grounds that the questions violated their first amendment right to freedom of speech. The group's refusal to answer questions resulted in them being charged with Contempt of Congress on November 24, 1947. These witnesses have come to be known as the Hollywood Ten.
Writer-producer Herbert Biberman, Director Edward Dmytryk, Producer-Writer Adrian Scott, Screenwriters Alvah Bessie, Lester Cole, Ring Lardner Jr, John Howard Lawson, Albert Maltz, Samuel Ornitz and Dalton Trumbo were each sentenced to one year in prison and fined $1,000. In today's dollars, $1,000 would be over $10,000.
After the conclusion of the HUAC hearings, fifty motion picture studio executives met at the Waldorf-Astoria Hotel in New York City. The group released a statement that they would not hire anyone who did not cooperate with HUAC. A second round of Hollywood hearings were held in 1951. In the end, over 200 suspected communists were blacklisted by the studios. Although some worked under assumed names, most of these individuals never worked in the film industry again.
To further research HUAC, please review the finding aids for the Jewish Federation Council of Greater Los Angeles, Community Relations Committee Collections. Parts one, two and three contain material related to HUAC. In addition, the Gilbert G. Benjamin, Jr. Subversive Activities Collection also includes material on HUAC.