Some Peek in the Stacks blog posts are authored by CSUN students who work in Special Collections and Archives.This month's post was written by Sarah Witherspoon. Sarah is a senior majoring in History.
Jesse James is one of the most infamous American outlaws of the nineteenth century Wild West. Beginning in 1866 and based in Missouri, James and his James-Younger Gang robbed and murdered dozens of people in Missouri, Kentucky, Iowa, Texas, Arkansas, Kansas, and West Virginia. After being killed by Robert Ford in 1882, James's fame grew among the American public. In 1907, The Arthur Westbrook Company decided to publish a dime novel titled The James Boys of Old Missouri, and Their Outlaw Band of Border Bandits as the second novel in their ongoing Adventure Series to give the populace a fantastical glimpse into James' life. Between 1908 and 1910, the company commissioned author William Ward to write another thirty-five novels based on James and his gang.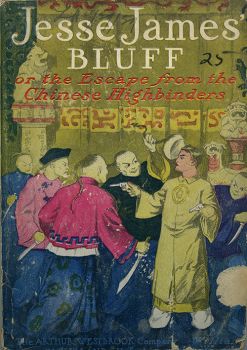 From pursuing a phantom figure in Jesse James' Mysterious Foe to procuring Imperial Jewels stolen from the Peking Royal Palace by the Chinese Highbinders in Jesse James' Bluff, there is no shortage of suspense in these stories. While they are works of fiction, they make numerous references to exploits and foes from James' actual life, including specific crimes he and his gang committed, and the Pinkerton detectives' ongoing pursuit of the gang.
One novel that stands out is Jesse James' Battle for Freedom: or the Fight at Monclava. In this story James disguises himself as Pinkerton detective Con Morley. He ends up going on a manhunt that takes him to the border town of Monclava. With his real life brother Frank, Jesse becomes entangled in a freedom fight against the Mexican army. In the end, he fails to catch the man he is hunting, and is forced to flee back to the US. This novel is notable because Jesse encounters a number of supernatural elements including a ghost train, color-changing flowers, and shifty-eyed pictures. Yet even with these fictitious inclusions, Ward incorporates references to James' real-life experiences as a guerilla fighter on the side of the Confederacy during the Civil War.
Special Collections and Archives currently has at least 20 of the original novels from the Jesse James Adventure Series. If you are a fan of James's life, a researcher of his legacy, or just love the appeal of the Wild West, these novels, and perhaps a sarsaparilla or two, are sure to take you back.