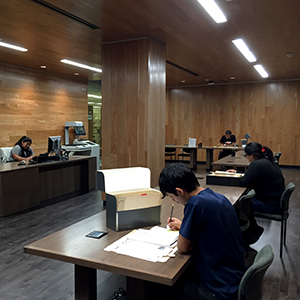 As the campus and library begins gradually reopening over the summer, Special Collections & Archives will be posting monthly updates here about some of our work over the past 15 months, our current services, and what to expect during the fall term. On June 15, we began a phased reopening, where CSUN students, faculty, and staff can use collection materials in person by appointment two days a week. We're excited to welcome researchers back to the reading room after such a long absence.
Over the past 15 months, all use of collection materials has been via duplication orders, a service that will continue as we slowly return to normal operations. Prioritizing orders from CSUN students, staff in Special Collections & Archivist staggered visits to the department to scan collection materials for all our researchers since none could come to campus. To date we have scanned nearly 30,000 pages while filling several hundred remote duplication orders.
We also worked to continue opening materials in our collections to researchers, despite the challenges inherent in not being able to go to campus. Working together from their respective homes, student assistants and staff in the department launched several new projects that could be completed without visiting campus, especially a major audio transcription project. Student assistants completed transcription of 169 hours, 43 minutes, and 27 seconds of audio, enabling the library to make dozens of accessible audio resources available for use online.
Finally, we were able to take advantage of an empty building to update some of the finishes in the exhibit gallery, including new flooring and a fresh coat of paint. The new gallery space is ligher, brighter, and ready for students and other members of the campus community to return.