Some Peek in the Stacks blog posts are authored by CSUN students who work in Special Collections and Archives. This week's post was written by Jenna Heim, a student assistant in the Urban Archives. Jenna is an undergraduate student majoring in Recreation and Tourism Management with an emphasis in Outdoor Recreation.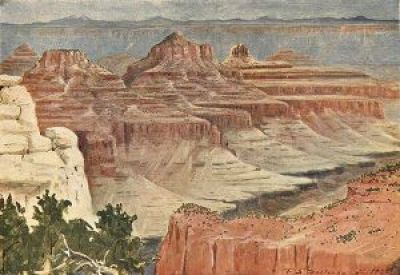 This year, the National Park Service (NPS) celebrates its 100th birthday! The NPS is a government agency that preserves natural spaces and historical sites across the country. It manages these parks and welcomes the public to enjoy and appreciate some of America's most unique places. Special Collections and Archives is home to many rare books and other materials about various National Parks. Readers can uncover a snapshot of these open spaces in their early days of discovery and development through various guidebooks, journals, and photograph compilations.
During the 1800s, many American settlers began to travel west. Settlers cherished the natural wonders they discovered, believing these wilderness areas represented their great country's value and beauty. By the late 19th century state and federal government began to take action to protect these natural places from the looming threat of increased industrialization. Various states began to set aside open spaces for preservation and in 1872 the federal government established the first national park, Yellowstone National Park. In 1886, the Official Guide to the Yellowstone National Park was published, which included detailed descriptions, sketches, and maps of our first national park.
As the years passed, more wilderness locations gained protection by the government. This led Congress to create the National Park Service in 1916, to oversee the care of these important places. Since then, the number of parks in the NPS has increased dramatically. In 2016, the NPS consists of 409 sites, over 84 million acres of land, and serves over 275 million visitors per year. It preserves natural spaces not only for their beauty and natural resources, but also because of the many health benefits that spending time in the outdoors provides. Recreation opportunities in the outdoors promote active, healthy lives. Spending time in nature also combats stress, anxiety, and depression, and contributes to stronger relationships. Many individuals also find increased peace, clarity, and happiness in life by regularly venturing into the outdoors.
Grand Canyon National Park was first explored by John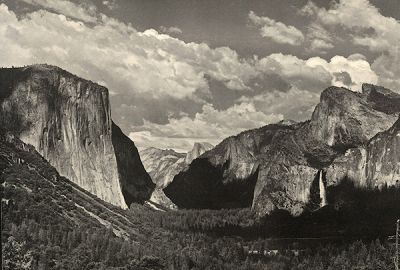 Wesley Powell on behalf of the United States in 1869. Canyons of the Colorado contains Powell's detailed notes of his discoveries, complete with sketches. A Canyon Voyage is an account of Powell's second expedition into the Grand Canyon in 1871 written by Frederick S. Dellenbaugh, a member of the expedition. His account includes intricate sketches as well as black and white photographs of the Colorado River and surrounding canyon. The Romance of the Colorado River is another account by Dellenbaugh describing these explorations into the Grand Canyon.
After spending years trekking through Yosemite National Park's every nook and cranny, John H. Williams wrote Yosemite and its High Sierra. Published in 1914, it includes a detailed description of the park's most scenic locations, accompanied by many early photographs of the area. John Muir, known for the years he spent adventuring through California's mountains, also spent an extended period of time in Yosemite. While Yosemite was already a California State Park, Muir helped the federal government establish it as a National Park in 1890. Special Collections and Archives contains several books by Muir that describe his experiences and the park's highlights. The Yosemite, published in 1912, is an account of his first experience in the park and describes the many sights and his love of the natural beauty. My First Summer in the Sierra is a published version of Muir's journal and sketches that he recorded while travelling through the California mountains, including Yosemite. Yosemite National Park is an early guidebook to the park, published in 1936 by the National Park Service, including tourist sites and photographs. Ansel Adams, a famous photographer, took many black and white panoramic photographs of Yosemite, which were published in 1936 in The Four Seasons in Yosemite National Park. These rare books represent a handful of the various materials found in Special Collections and Archives that illuminate the early years of many revered sites in the National Park Service.