Some Peek in the Stacks blog posts are authored by CSUN students who work in Special Collections and Archives. This week's post was written by Will Wyse, a student assistant in the International Guitar Research Archives. Will is a graduate student majoring in Guitar Performance, and is this year's Purcell Fellow.
Dr. Leonard Osborne was a U.S. Navy surgeon based in Maryland during the War of 1812. His personal journal, dated 1809 to 1815, is one of the many treasures held in Special Collections and Archives. In it, he describes medical lectures he attended, medical treatments, various locations his ship visited, and his fellow seamen. Also included are  sketches, hand-drawn maps, and poems.
Through a relatively safe lens, Osborne's journal shows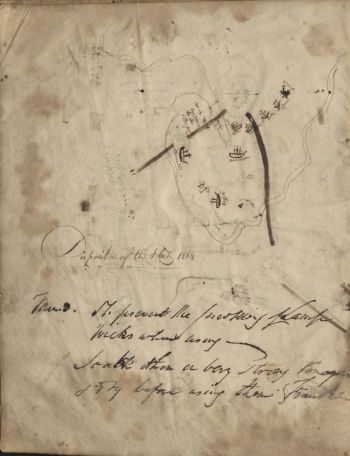 us the daily life of a young surgeon during wartime. Most entries describe a day of attending lectures or observing patients. However, scattered throughout the journal are details of his family and personal life, opinions of the war, and even a small section on personal conduct.
Even in the midst of a fairly controversial war, Dr. Leonard Osborne saw little action. Often, he begins to recount a day with "nothing interesting doing", or "nothing new today". However, there are occasional instances which remind us of the unpredictable reality of war, such as the account of a patient who survived a musket shot to the head. Osborne writes that the ball, fired from the musket, was lodged in between the eyebrows of a young Scotsman. He goes on to write that the situation was "miraculous", and that the patient will no doubt recover.
In a section titled "Memoria," Dr. Osborne reflects on his childhood and gives details of life at the turn of the 19th century. He writes that his father died when he was little more than three years old, and that his mother was left to raise the family, work, and tend a farm. Also in this section, Dr. Osborne expresses a strong sentiment of patriotism that was likely the attitude of many young Americans in his day. He states, "There runs not a drop of any other than American blood in my veins…". While some of President Madison's decisions preceding the War of 1812 were not supported by the majority, Osborne's statement reflects the nationalism of a young, burgeoning country.
The last portion of Dr. Osborne's journal contains personal records and a list of "conduct". The list, dated 1809, gives numerous examples of social conduct, presumably the result of observations by Dr. Osborne. Examples include how to behave around someone you do not respect, as well advice against telling stories that, while humorous, make another man look foolish. Also included in this portion are several lists of books that Dr. Osborne has read, categorized by subject.