Posted on November 17, 2015
Some Peek in the Stacks blog posts are authored by CSUN students who work in Special Collections and Archives. This week's post was written by Will Wyse, a student assistant in the International Guitar Research Archives. Will is a graduate student majoring in Guitar Performance.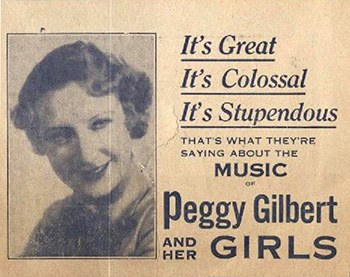 Peggy Gilbert was a jazz saxophonist who, beginning in the 1930's, formed several all-female bands, and through her work represented women in the world of jazz performance. Originally from Sioux City, Iowa, Gilbert was an active member of the Los Angeles Musicians Union, local 47, remaining a trustee after retiring from her performing career. She formed her most successful group, the Dixie Belles, at the age of 69. The Dixie Belles toured throughout the U.S from 1974-1996, playing at several Jazz festivals, and for many community events within Los Angeles.
Peggy Gilbert's efforts have been formally recognized by groups such as the International Institute for the Study of Women in Music, the Los Angeles Department of Aging, the Los Angeles Musicians Union, and the Pioneer Women Musicians of Los Angeles. In addition to performing, Gilbert tried her hand as an actor, appearing in two episodes of The Golden Girls.
The Peggy Gilbert Collection contains scrapbooks and photo albums, newspaper clippings, awards, promotional material, manuscripts and scores, and a notebook containing her memoirs. The many concert programs and flyers contained within Gilbert's collection detail the huge success of her performing career. In the 1986 concert program for the Pioneer Women Musicians, Peggy Gilbert is honored for her contributions as a jazz saxophonist. Gilbert collected a wide range of scores and manuscripts, including her co-written musical, Mr. Chick Tapp, about the life of a tap dancing chicken, and several other animals living at an orphanage in a small midwestern town.
In her memoirs, entitled "Sex or Sax," Gilbert shares the details of the career obstacles faced by women performers in music. She begins with a tongue in cheek warning to the reader that, although she will not  name specific names or places, she is not responsible for the conclusions that the reader jumps to. She goes on to speak of women in music, saying that, "Peace and tranquility [have] moved nations and caused contracts to be signed- and in the life of a female musician, peace had nothing to do with it." This quote is indicative of the determination Gilbert possessed that brought her bands to the forefront of the jazz scene. Also included in her journal are stories of her father, a violinist. She writes that her father taught her how to "do it right." by yelling from their basement, through the thick floorboards, "Stop, do that again, you played a wrong note!"
Peggy Gilbert's influence on women performers in jazz exceeds her many awards and accolades. This collection offers a comprehensive look into her musical life, and the impact that she had in her community.