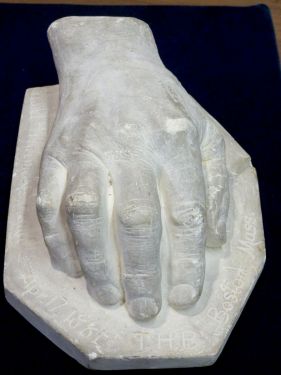 As people move around the 2nd floor of the library and pass Special Collections and Archives, they sometimes pop in to ask, "What is this place?" Special Collections and Archives holds the library's rare book and periodical collections, and a wide variety of manuscript collections and individual items. The next question often starts "So, what is your (pick an adjective) item or book?" Today for our blog, we have set out to answer a few of your most pressing questions.
Our most popular book is Baby, You are my Religion: Women, Gay Bars, and Theology Before Stonewall by Marie Cartier, a professor here at CSUN. In the early 1990's, our most popular book was Sex by Madonna. Legend has it that there were actually people lined up out the door in Special Collections waiting to see this single book.
What is your weirdest book or object? Although not a book, we have a bronze sculpture cast of Walt Whitman's hand. Is that weird enough for you? Before the widespread use of photography, life casts were used to document the physical characteristics of people and sometimes used in physiognomy. Now considered a pseudoscience, physiognomy was the 18th and 19th century practice of associating certain personality traits to physical traits. A library story goes that the bronze was prominently displayed on a pedestal near the reference desk on the first floor for a number of years.
Tallest, smallest, and oldest, widest? A Manuscript of Antiphonary Fragments is our tallest book at about 38 inches and weighing a whopping 35 pounds. The REM Gospel is our smallest book and measures a little smaller than the size of a dime. Our oldest book is a Manuscript Bible written by hand in 1260 A.C.E. The handwriting in the bible is very small and is perhaps around 5 point text size. Our oldest item is a Sumerian Calendar with cuneiform writing that dates to about 2350 B.C.E. We also have a few pieces of Egyptian Papyrus Fragments that perhaps date before 1000 A.C.E. The papyrus is woven and is quite different than paper.