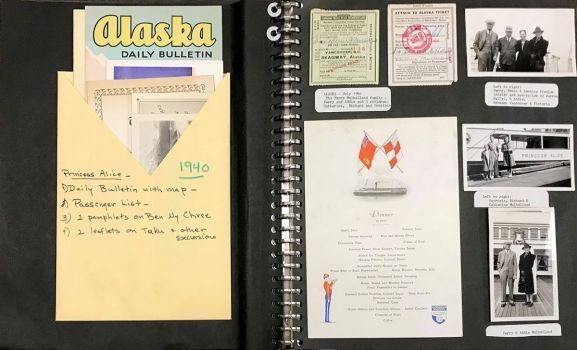 The evolution of the scrapbook dates back centuries, as people began to document their lives, the places they visited, and the significant events that shaped their daily lives in the unique format. Special Collections and Archives holds a wide variety of materials that illustrate this evolution, including scrapbooking's historical roots and the merging of storytelling and print that have resulted in items we recognize as scrapbooks today.
Following the invention of the printing press in the 15th century, family bibles became one of the earliest forms of family record keeping. Many families used blank end pages at the end and the beginning of the text to record the full names, births, deaths, and marriage dates of children and other family members. Families sometimes kept important documents between pages for safekeeping. Two bibles held in Special Collections and Archives, one published in 1790 and another in 1806, contain evidence of this practice. Some families placed "scraps" such as newspaper clippings, birth announcements, obituaries, and sentimental items in between pages, and by the late 1800s some bibles included portrait slots where photographs could be inserted and stored.
Commonplace books were made popular by upper class Europeans during the Renaissance period. These books often contained recipes, quotes, letters, poems, tables of weights and measures, proverbs, prayers, legal formulas, and notes from other texts, and were primarily used as an aid for remembering information. The Customs of London: Otherwise Called Arnold's Chronicle is an 1811 reprint of the original commonplace book, believed to have been created about 1502. The commonplace book was similar to journals and diaries, but focused less on personal reflection and more on practical information. Later, recipe books became more popular, often containing handwritten instructions for baking and cooking, and sometimes including instructions on scraps of paper collected from friends and relatives.
People have kept journals and diaries for hundreds of years. Journal and diary writing gained in popularity in the 19th century as a way to describe personal experiences, thoughts, feelings, and opinions. With the development of the industrial printing press and the mass production of printed materials, people began to insert or paste keepsakes such as greeting cards, calling cards, postcards, prayer cards, and trade cards into journals and diaries. Diaries like the one belonging to Charles H. Peterson capture personal experiences, and also give us insight into significant historical events like the American Civil War. Interestingly, journaling was equally popular among people from all classes, both women and men, and with children like Donald Gordon whose journal includes clippings, sketches, musical notation, maps, and other keepsakes. 
During this same period, people began filling blank, bound books largely used for artwork with clippings, cards and other printed memorabilia. They would sometimes include personal journal entries, hand-drawn sketches, watercolors, and various scraps of printed material, as James Dargan did in his journal. As photographs became more accessible to the masses, photos were added, ultimately causing these volumes to takeon the content and character of the modern scrapbooks we know today. Some scrapbooks, such as one created by the Canoga Owensmouth Women's Club are dedicated to the history of an organization. Others, like those belonging to A. C. Tilton (Edwin Booth Family Collection) and Mimi Clar Melnick, document college days and the personal experiences of young adulthood. Travel scrapbooks such as the Mulholland family's Three Trips to Alaska (Catherine Mulholland Collection), are organized to describe the travel experiences of different family members between 1926 and 1980. In some cases, people have created scrapbooks dedicated to a person other than themselves, such a the Carl Sandburg scrapbooks which document the writer's life.