In the late 18th century, a new genre of American literature began to appear. Sometimes dictated and sometimes written, the slave narrative opened the window into the lives of Americans living in bondage. Northern abolitionists and others were avid readers of slave narratives, many of which became best sellers. Slave narratives were also influential in the development of American literature. Though they were most often penned by African Americans, a smattering of slave narratives were also published by people of non-African descent.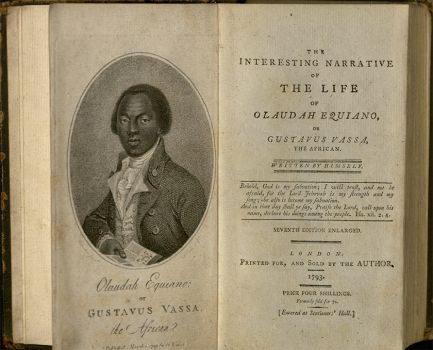 Many slave narratives were published and made available in England prior to publication in the United States. The Interesting Narrative of the Life of Olaudah Equiano, or Gustavus Vassa, the African was first published in England in 1789.  Special Collections and Archives holds two copies of this title, the fourth edition (1791) and the seventh edition (1793). Olaudah Equiano was born in 1745, in what is now Nigeria. When he was eleven years old, he and his sister were kidnapped and shipped to Barbados. Equiano was then shipped to the British settlement of Virginia, never to see his sister again. In 1754 Royal Navy Lieutenant Michael Pascal purchased Equiano, and renamed him Gustavus Vassa. In later years, an American Quaker sea merchant named Robert King purchased Vassa. By 1767, King allowed Vassa to purchase his freedom. Vassa left America for England where he lived until his death in 1797. In 1807, the British parliament passed the Slave Trade Act, ending the practice of slavery in Britain.
Narratives of the Sufferings of Lewis and Milton Clarke, Sons of a Soldier of the Revolution, During a Captivity of More than Twenty Years Among the Slaveholders of Kentucky, One of the So Called Christian States of North America was published in Boston in 1846. Lewis and Milton Clarke were born in Kentucky, to Letitia Campbell and Daniel Clarke. Daniel Clarke was a weaver from Scotland who had come to America to fight in the American Revolution. Letitia was the daughter of Mary, a half white, half African American slave and Samuel Campbell, her owner. Around 1825 to 1827, Daniel Clarke died and the children were sold to relatives of his maternal grandfather. Later, when Lewis Clarke learned he would be sold at New Orleans, he fled to Canada. After publication of his narrative, it is believed that Lewis Clarke met Harriet Beecher Stowe, author of Uncle Tom's Cabin, and that the character, George Harris, is based on him. 
The Narrative of James Roberts was first published in 1858. The only known surviving original is held at a New Orleans University Library. Special Collections and Archives holds a 1945 reproduction that was published in Hattiesburg, Mississippi. James Roberts was born in Maryland in 1753, and was enslaved as a child. His first master, Francis De Shields, was a Colonel in George Washington's Army. For a short time following the Revolutionary War, Roberts worked for George Washington in Philadelphia. When De Shields died, Roberts was sold and sent to New Orleans where he was auctioned off to Calvin Smith, a Louisiana planter. In 1815, Roberts was called to serve in the War of 1812, under General Andrew Jackson, and fought at the Battle of New Orleans. Despite his service, Roberts was returned to slavery at the conclusion of the war.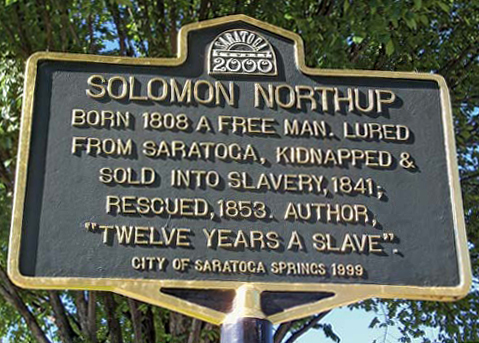 With the 2013 release of the motion picture Twelve Years a Slave, the Narrative of Solomon Northup has gained new attention. Mintus Northup, Solomon's father, was a former slave who was freed with the death of his owner in 1797. His sons, Solomon and Joseph were freeborn in Minerva, New York, where the family had a successful farm. Solomon married Anne Hampton in 1828. Mintus passed away the following year and five years later, Solomon and Anne moved to Saratoga Springs, New York. In Saratoga, Solomon gained a reputation as a good fiddler, and in the spring of 1841, two crooks tricked him by offering him a fiddling job in Washington, D.C., then selling him into slavery. Solomon Northrup spent the next 12 years as a plantation slave in central Louisiana, until a Canadian Carpenter named Samuel Bass helped him to secure his freedom on January 4, 1853.