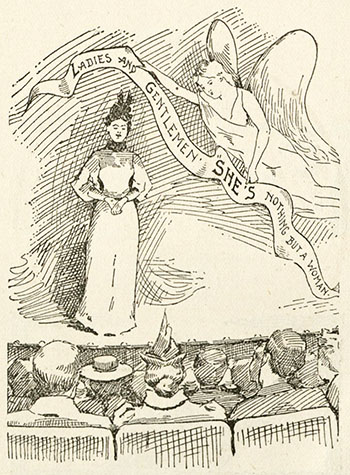 The US Constitution originally left the determination of who should be eligible to vote up to the states, and as a result the question of which Americans should have voting rights has been debated throughout US history. Over the years five constitutional amendments and a number of federal, state, and local laws have been passed to more clearly define who is eligible to vote.
Much recent news coverage has been devoted to current laws that some believe result in the suppression of voters around the US via gerrymandering, the purging of voter roles, and disenfranchisement of transgender individuals, felons, and others, but the issue of voter suppression isn't new. In the late 19th and early 20th centuries, many states in the American South passed voter suppression laws that targeted African Americans via poll taxes, literacy tests, and other now-illegal practices. These laws were used with ruthless efficiency to prevent many Americans from exercising their constitutional right to vote for several decades.
The women's rights movement first began building strength in the 1840s and 1850s. Both before and after the US Civil War, many suffragists argued in support of establishing full civil rights for African Americans, but other suffragists pitted themselves against African Americans, especially after passage of the 15th Amendment enabled black men to vote without also extending that right to women. Over the coming years, as the number of black voters in the US steadily decreased, public support for expanding the American electorate to include women, especially white women, steadily grew.
During the Progressive Era issues of particular importance to women like child labor, education, domestic violence, and temperance galvanized the women's suffrage movement. Special Collections holds numerous pamphlets, periodicals, and other publications produced in the late 19th and early 20th centuries on the subject of women's suffrage. Several of these works argue strenuously against enfranchising women, including The Unexpurgated Case Against Woman Suffrage and Woman Adrift: A Statement of the Case Against Suffragism, These works generally argue that women best serve the state by keeping to traditional family and caregiving roles, that their political interests are best represented by their husbands at the ballot box, and that insertion of women into the American electorate should be considered ungodly. Others, like Ecce Femina: An Attempt to Solve the Woman Question, present arguments both for and against the enfranchisement of women. 
In Wyoming women were enfranchised in 1869, and some other western states followed suit over subsequent decades. Women in California gained the vote in 1911 with passage of Proposition 4. Nine years later the voting rights of women were federally recognized via passage of the 19th Amendment. Special Collections holds numerous pamphlets, periodicals, and other publications published by women and those who supported their enfranchisement that were produced over this period. These include satirical works like Uncle Jake on Woman Suffrage and Female Filosofy, Fished Out and Fried, as well as first-hand accounts by women who worked in the movement, like How We Won the Vote in California, authored by a former president of the Votes for Women Club of San Francisco. Numerous suffrage periodicals, like the Women's Tribune, featuring articles on a host of issues of interest to prospective women voters, are also available.