Some Peek in the Stacks blog posts are authored by CSUN students who work in Special Collections and Archives. This week's post was written by Omar Cerda, a student assistant in Urban Archives. Omar is a graduating senior majoring in Marketing.
Special Collections and Archives is home to the David S. Somerville Collection which features comic books from both Marvel and DC Comics, and many other books that focus on superheroes and other pop culture characters. Marvel has its roots in comic books, but has also made movies, television shows, and video games. Marvel Comics was originally established in 1939 under the name Timely Comics. Throughout the years, Marvel has created thousands of characters, and some of the earliest are still fan favorites, including Spider-Man, Captain America, and Iron Man.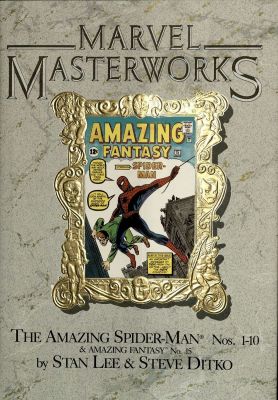 Spider-Man is arguably Marvel Comics' most popular character. His origin story is one most people are familiar with – an unpopular, genius kid is bit by a radioactive spider and given the proportionate power of that spider. Peter Parker, the real identity of Spider-Man, was first introduced in 1962 in Amazing Fantasy #15 and was created by Stan Lee and Steve Ditko.  He was created to appeal to teens, often going through typical troubles associated with being a high school student. From his introduction, Spider-Man was seen as a vigilante. The fictional editor-in-chief of the Daily Bugle, J. Jonah Jameson was the first to call him a "menace." The reality was that Spider-Man was just a young man trying to learn how to use his newly-found powers. You can learn more about Spider-Man's origin story in Marvel Masterworks Presents the Amazing Spider-Man: Reprinting Amazing Spider-Man Nos. 1-10 & Amazing Fantasy No. 15.
Captain America, also known as Steve Rodgers, embodied the American values of liberty, justice, and freedom for all. Captain America was created in 1941 by Jack Kirby and Joe Simon, and first appeared in Captain America Comics #1. The transformation of Steve Rodgers to Captain America is the result of ingesting a super-soldier serum which turns him into a perfect human. Although Captain America has no actual super powers, he possesses peak human abilities, which include strength, speed, stamina, and intellect, among others. He is unique in that he is a World War II hero, fighting against the Nazis in his first stories, but through events is frozen and found in the future, where he is a man out of time. The David S. Somerville Collection includes The Adventures of Captain America, Sentinel of Liberty, which recounts this character's origin story.
Iron Man was created in 1963 by Stan Lee and Jack Kirby, and was first introduced in Tales of Suspense #39. Iron Man, also known as Tony Stark, is a playboy billionaire, industrialist, engineer, overall genius, and philanthropist and is often depicted as a self-centered person. Tony Stark created the suit out of necessity when a warlord held him captive and forced him to create weapons. Instead, Stark created the Iron Man suit. Over the years Tony has used his brilliance and money to create numerous Iron Man suits, each catering to the different situations he must face. To read more about Iron Man and his many suits see The Many Armors of Iron Man.