While we are working, attending class, and doing so many other things from home, our blog posts will focus on materials that have been digitized and can be accessed remotely. We'll continue to include links to our finding aids and other information about physical access, as well.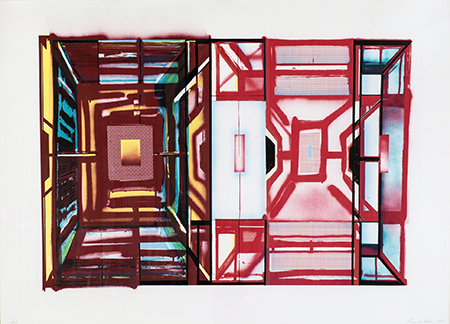 The University Foundation Art Collection Commission was established in 1974 to encourage learning and research for students, faculty and local community members, and to enrich CSUN's campus by loaning works of art to publicly accessed spaces. Since then, the commission and others on campus have worked to build CSUN's art collection. Today it includes works by faculty, alumni, and other artists from the San Fernando Valley, Los Angeles, and beyond. In 2019, following a gallery exhibition of highlights from the collection, some pieces were photographed and added to the library's digital collections under the title "Unlikely Conversations: Selections from the University Art Collection."
Acclaimed artist and CSUN Professor Emeritus Hans Burkhardt made an early donation of paintings, prints, and drawings, and continued to make donations until his death in 1994. Several of his paintings are included in the digital collection, dating from the 1950s and 1960s. Some donors gifted single pieces, as in the case of Joyce Treiman's "Incident I" (1983), while others gifted the university larger lots of works, as when the Warhol Foundation generously gifted over 100 photographs and prints, several of which are part of the digital collection.
Other contributions include approximately two dozen prints by a group of Los Angeles-based Chicana/o artists donated by CSUN alumni, actor, activist, and comedian Cheech Marin. Two are included in the digital collection: one by CSUN alumni Wayne Healy and another by Healy's friend and colleague David Botello. Most recently, the Fritz Faiss Foundation donated several dozen drawings, encaustics, paintings and woodcuts, four of which are included in the digital collection. Faiss was a German Impressionist painter and printmaker who taught at CSUN in the 1970s.