To help Library users find a study environment with a noise level that is most conducive to their needs, the University Library has two options, depending on location: Collaborative Study and Quiet Study: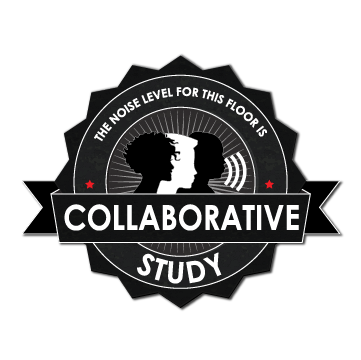 Collaborative
Locations
3rd Floor core
2nd Floor: core, Teacher Curriculum Center/Music & Media, Library Exhibit Gallery
Main Floor: ASRS Viewing Room, West Wing/CMS, Lobby, Learning Commons
Group Study Rooms (Floors 1 - 4)
Map Collection
Ferman Presentation Room
Policy
Talking is allowed but please keep voices down.
No party atmosphere, shouting, or amplified media.
Cell phone ringer set to vibrate.
Cell phones may be used for short conversations in these areas if the same low tone of voice is maintained.
Use headphones with personal media.
NOTE: Noise level may vary in some areas due to location of service desks/main entrance and occasional Library events.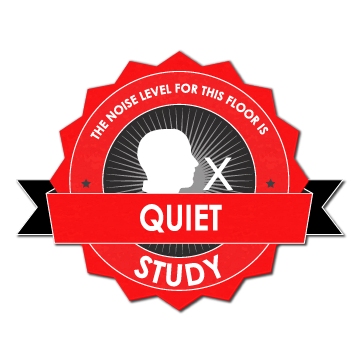 Quiet Study
Locations
4th Floor core
The Quiet Study Lounge (Fourth Floor, East wing)
Gohstand Reading Room
Individual Study Rooms (Floors 2-4)
Graduate Study Rooms (Garden Level and 4th floor)
Policy
Quiet places for individual study: No talking, either in person or by phone.Cell phone ringers set to silent or off. If you have to use your cell phone, please move to Floors 1, 2 or 3, or a stairwell.
No amplified media.
Headphones set to low volume.
Keep voices low when transitioning to the 4th floor, particularly in the hallways.
Reasonable non-verbal noise OK.
NOTE: Noise levels will vary near hallways, service desks, or due to occasional library sponsored events / presentations in adjacent areas.

Group Study Rooms Noise Policy
The group study rooms located in the core on floors 1-4 are designated Collaborative Study spaces, with the following limitations:
These rooms are NOT soundproofed.
Please be considerate of others around you, and use a conversational tone of voice.
No party atmosphere, shouting, or amplified media; cell phone ringer set to vibrate.
Keep study room doors CLOSED while in use
NOTE: The 4th floor is a Quiet Study space; therefore, please keep voices low when going to/from the study rooms.
Noise Complaints
We expect Library users to be respectful of each other and Library employees.
To report a noise complaint, please call Guest Services at (818) 677-2274