While we are working, attending class, and doing so many other things from home, our blog posts will focus on materials that have been digitized and can be accessed remotely. We'll continue to include links to our finding aids and other information about physical access, as well.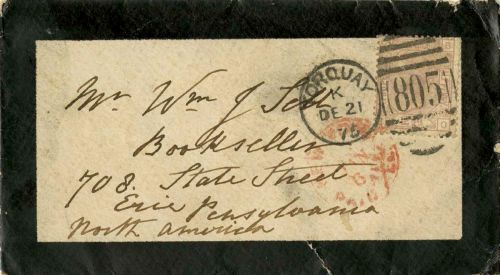 As many of us stay at home during the pandemic, we keep in touch with our family and friends through video chats, text messages, and a number of other technological communication methods. Although our newly Zoom-centered lives can feel filled with screens, we also remain connected through the physical mail system that delivers letters and packages to our door. This system includes the United States Postal Service, which has long served as a vital connective component of American life.
Article 1, Section 8, Clause 7 of the United States Constitution empowered Congress "To establish Post Offices and Post Roads." In the founding years of the United States, the U.S. Postal Service facilitated communication among the government and military, connected constituents with the newly-formed government, and served as a low-cost means of distributing newspapers. In 1792, the passage of the Postal Service Act established the United States Post Office Department, and the Postal Reorganization Act of 1970 transformed the Department into an independent agency of the executive branch of the United States federal government.
In the 19th century letter writing flourished, as sending letters became more affordable and Americans increasingly migrated further away from their family and community networks. Initially the cost of mailing a letter depended on the distance between the sender and recipient, but by the middle of the Civil War in 1863, the cost of a sending a letter in the United States was one uniformly-low price. Sending a letter was now affordable, whether a correspondent sent a letter 5 or 500 miles away.
In the early 1860s as the postal network expanded and literacy rates rose, families were torn apart as soldiers and others involved in the Civil War traveled far from their homes and communities. The Postal Service allowed Americans to retain social and familial ties even when individuals were required to be physically apart. Taking a close look at one Civil War letter conveys the grave and important role of correspondence when loved ones are distant.
On August 13, 1863, William H. Edmont wrote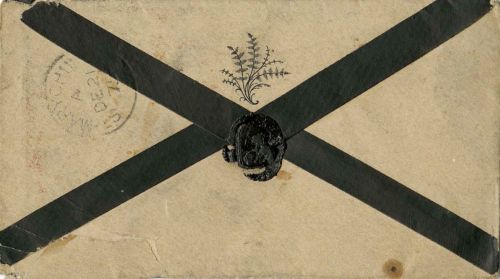 to Sarah Sell, describing the final intimate moments of the life of Sarah's brother John M. Sell. Sell, while fighting for the Union, was fatally wounded in battle on July 2nd, 1863 when a shell struck his leg below the knee. Edmont carefully chose words to describe what he witnessed and to build an image to connect Sarah with her brother's experience. Although distant from Sarah, Edmont's kind words recalling her brother's final moments sought to bring feelings of comfort and support to her.
Receiving and writing letters was an important part of daily life, and many Civil War soldiers recorded correspondence activities in their diaries. Alongside notes on the weather and food consumed on a particular day, Charles H. Peterson made notes of incoming and outgoing correspondence. In August 1863 alone he noted 22 letters received and sent from a number of different correspondents. Union soldier George H. Young also wrote in his diary about letters he composed to specific individuals, as well as items he sent along with his correspondence.
Correspondence provides a window not only into building a fuller picture of life in a particular time, but also reveals social networks that stretch across geographic boundaries.  In times when events outside of our individual control separate us from one another, correspondence keeps us close together even when we are far apart. Additional Civil War letters and diary entries describing correspondence are viewable in the John M. Sell Civil War Collection, 1861-1865, George H. Young Diaries, 1861-1886, and Charles H. Peterson Pocket Diary Collection, 1863-1865.