Laptops and tablets are available for 7-day checkout current students, faculty and staff from the Learning Commons Technology department on the Main Floor of the Library. A valid CSUN student or employee ID is required.
Items available for checkout:
System
Software
Inventory*
Tablets
iPad Air 2 64GB with Keyboard
Latest iOS, Microsoft Office
40
Surface Pro 4 with Keyboard and Stylus
Windows 10, Microsoft Office
5
Laptops
HP EliteBook 840 G3 14-inch (Intel i5, 2.3GHz, 8GB RAM)
Windows 10, Microsoft Office
47

HP EliteBook 740 G1 15-inch (Intel i5, 2.5 GHz, 4GB RAM)

Windows 10, Microsoft Office

28
MacBook Pro 13-inch (Intel Core i5 2.9 GHz, 8GB RAM

)

Latest Mac OS, Microsoft Office
20
*Actual number of devices available for checkout varies. Please contact us for accurate number.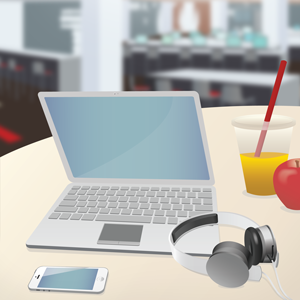 Policies
Laptop checkout is available during open Service Desk hours at the Learning Commons Technology office on the main floor of the Library.
Borrowers must be current CSUN students, faculty or staff, must hold a currently valid CSUN ID card, and have no outstanding library fines.
Only one laptop or tablet per person may be checked out.
Equipment cannot be reserved and are available on a first-come-first-served basis.
All checked out items must be returned to the Learning Commons Technology department on or before the due date, up to one hour before the department closes.

All patrons must sign the revised

System and Device Loan Agreement before checking out a tablet or laptop for the first time.
Fines for Late Returns
$25 per day or portion thereof until all parts are returned
Computers
The Oviatt Library provides access to computers throughout the building in support of research and learning at California State University, Northridge.
Please see our Computers page for full details.