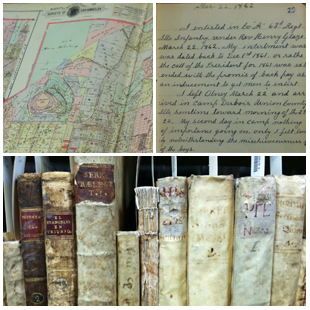 Special Collections was formally established in the early 1970s to house the Library's manuscripts, rare books, periodicals, maps, prints, and art. Processed and cataloged collections are open for research. Special Collections holds over 45,000 books and numerous manuscript and archival collections which support the University's curriculum, as well as the research interests of faculty and students on campus.
Collection Strengths
Holdings in Special Collections include manuscripts, printed books, audio-visual resources, and other materials. In addition to supporting curricular needs at California State University, Northridge, collecting is focused on several topical areas including American literature, California and the West, children's literature, the history of printing and publishing, human sexuality, music, 19th and 20th century Europe, radio and television scripts, religion, theater and motion pictures, and United States history.
To find archival and manuscript collections which are a part of Special Collections please browse or search our finding aids, search the OneSearch, or the library's Digital Collections. For more information about how to access our collections, please read more about Using the Collections and our Duplication Services.
Selection of Materials
Library materials are designated for Special Collections when their format, age, scarcity, or other unusual characteristic merits special handling. The Head of Special Collections & Archives determines what materials shall be placed in Special Collections. The librarian may also confer with members of the Library faculty regarding the transfer of items already in the collection that meet these criteria, and for the purchase of new materials.