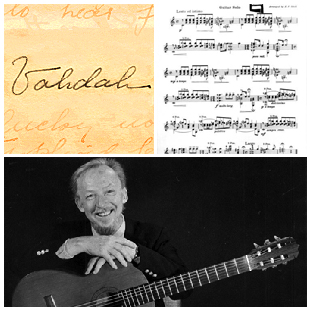 The International Guitar Research Archives (IGRA) was founded in 1980 by Professor Ronald C. Purcell upon the donation of the Vahdah Olcott-Bickford Collection to California State University, Northridge. IGRA holds one of the world's largest collections of resources documenting the lives and music and careers of guitarists, composers associated with the guitar and professional association. IGRA also houses one of the world's largest repositories of guitar sheet music. 
With generous support from the Ronald C. and Elizabeth-ann Purcell IGRA Endowment, established in Professor Purcell's memory, and other donors, IGRA offers:
Collection Strengths
IGRA holdings include correspondence, manuscripts, periodicals, photographs, audio recordings in numerous formats, sheet music, printed books, and other materials. Collections documenting the careers of such noted musicians as Andrés Segovia, Reginald Smith Brindle Laurindo Almeida, Vicente Gomez, Neil Anderson, Ronald Purcell and others are included.
To view collections which are a part of IGRA, please browse or search our finding aids, search the OneSearch, or the library's Digital Collections. For more information about how to access our collections, please read more about Using the Collections and our Duplication Services.
Selection of Materials
Library materials are designated for IGRA when their subject matter, format, age, scarcity, or other unusual characteristic merits their inclusion. The Head of Special Collections & Archives determines what materials shall be placed in IGRA. The librarian may also confer with members of the Library faculty regarding the transfer of items already in the collection that meet these criteria, and for the purchase of new materials.