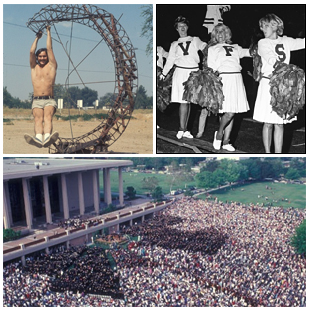 The University Archives is the repository for the historical papers of California State University, Northridge's administration, Faculty Senate, schools and departments, and student activities on campus. We collect the papers of the University administration, schools and departments, and auxiliary organizations on an on-going basis. The University Archives also endeavors to collect materials documenting the student, faculty, and staff experience. These records are a rich resource for historical research and support current administrative needs.
Resources
To find more information about university records open for research, please browse or search the following:
For more information about how to access our collections, please read more about Using the Collections and our Duplication Services. See also our tutorial What are Archives? and Resources for Student Clubs and Organizations.
Transfer of Materials
Records from campus offices are designated for the University Archives by a combination of campus policy, federal and state laws, and California State University system policy. For more information, please see:
University Archives records transfers must be accompanied by a completed Records Transfer Authorization form. Please contact us at (818) 677-4594 or asksca@csun.edu with any questions about potential transfers, or to schedule a drop-off or pick-up.
Donating Personal or Non-Official Records
University Archives & Campus History endeavors to collect materials that document the experiences of students, faculty, and staff. In many cases, these materials are not institutional records but are of auxiliary and affiliated organizations such as Associated Students, KCSN, labor unions, or individual student clubs & organizations.
These materials differ from official campus records in that they are not State records but are created and owned by separate independent groups and individuals. University Archives & Campus History would be pleased to house, care for, and make accessible these and similar records. If you would like to learn more about the archives, please contact us at (818) 677-4594 or asksca@csun.edu.