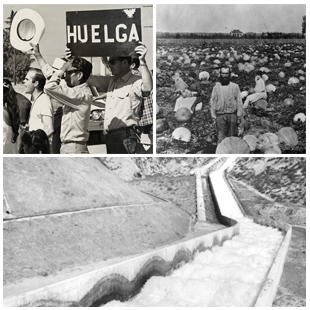 The Urban Archives was established in 1979 through the efforts of university faculty, concerned community organizations, and civic leaders. While it was a part of numerous administrative units on campus during its early years, in July of 1992 the Urban Archives was placed under the administration of the Library. Its purpose is to collect historically significant records of voluntary associations, local political figures, prominent citizens, and civic leaders which have contributed to the growth of Los Angeles County, and influenced government and public thinking since the beginning of the late nineteenth century.
Collection Strengths
Holdings in the Urban Archives include those typical of large, 20th-century archival collections, especially correspondence, newspapers, financial records, photographs, and other corporate and personal records. The collections document urban development in Los Angeles and the San Fernando Valley, education, journalism in Southern California, labor and guild history, minority and ethnic studies, politicians and political movements, social service and women in Los Angeles.
To view collections which are a part of the Urban Archives, please browse or search our finding aids, search the OneSearch, or the library's Digital Collections. For more information about how to access our collections, please read more about Using the Collections and our Duplication Services.
Selection of Materials
Materials are designated for the Urban Archives when their content warrants inclusion. The Head of Special Collections and Archives and department staff determine what materials shall be placed in the Urban Archives. The librarian may also confer with members of the Library faculty regarding the transfer of items already in the collection that meet these criteria, and for the purchase of new materials for the collection by Bibliographers from their budget allocation.