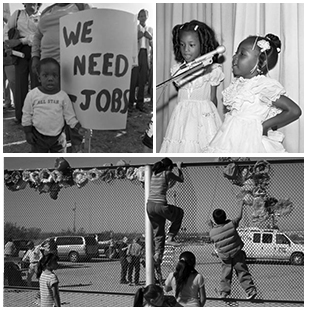 The Bradley Center was established in 1981 by Dr. Kent Kirkton as the Center for Photojournalism & Visual History to disseminate the visual history of Southern California with an emphasis on ethnic minority communities and photographers. In 2015, it developed an ongoing relationship with the Tom & Ethel Bradley Foundation, and was renamed the Tom & Ethel Bradley Center. Today, the Bradley Center has over one million images produced by Los Angeles-based photographers that document the social, cultural, and political lives of the diverse communities of Los Angeles and the Southern California region between the 1910s and the present. 
Collection Strengths
Holdings in the Bradley Center consist primarily of photographic materials. They comprise one of the largest collections of African-American photographers west of the Mississippi, and the most extensive collection in Southern California. The collections contain rich documentation of the African-American community, especially the Civil Rights Movement and its leaders as well as local churches, politicians, musicians, entertainers, athletes, and social organizations. Collections also document myriad issues surrounding the border dividing the United States and Mexico, with a focus on immigration, human rights, globalization, and economic violence. 
To view collections which are a part of the Bradley Center, please search the library's Digital Collections. For more information about how to access our collections, please read more about Using the Collections and our Duplication Services.
Selection of Materials
Materials are designated for the Bradley Center when their content warrants inclusion. Bradley Center and Library staff determine what materials shall be placed in the collections. They may also confer with members of the faculty regarding the donation of materials, the transfer of items already in the collection that meet these criteria, and for the purchase of new materials for the collection.